Today is the next stop on The Reunited blog tour… and this time, we're over at the Bookpushers.  With me!  Just me.
Drop in and see who my favorite lovers are.
and…another snippet from The Reunited…
Images of a girl, the light, creamy brown of a woman of mixed heritage. Freckles sprinkled across her nose. A charming smile.
And . . . most gut-wrenching of all, Joss's voice . . . I met her at the food court. She's here on vacation. Was supposed to come with a friend and the friend had to cancel. Nobody will be looking for her for the next ten days. When he spoke, there was an ugly, menacing hate in his voice.
She stumbled and slammed a hand down, bracing it by the curving wall of the stairwell at her back as the memory burned itself into her brain, followed by another. And another.
First there was a picture of a girl smiling at the camera. Then another, bound, gagged . . . and glaring at the camera.
The girl next door . . .
Patrick picturing the girl in a formal. Fuck . . . bloody fuck. Dru knew that dress. It was the one he'd selected for her bridesmaids. Of course, she didn't have any. He'd said he'd see to it . . .
This wasn't happening.
A cruel hand gripped her arm, so at odds with Patrick's gentle voice as he inquired, "Ella, are you feeling unwell?"
Swallowing back the bile that churned in her throat, she said softly, "The champagne, Patrick. I think it's gone to my head. Perhaps I should lie down."
Moments later, one of the house servants was at her side to escort her up the stairs. Just before she reached the top, she looked back, found herself staring down at Joss.
He was one of them.
Damn him.
The betrayal, the deep, gut-wrenching sense of pain, all but blinded her.
Damn him straight to hell.
Read more…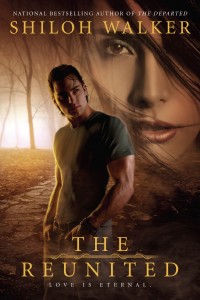 AN ETERNAL DESIRE
With his strong psychic ability, FBI Agent Joss Crawford longs for the woman he loved in a past life. But after years of searching, a new case is drawing him into the last place he'd ever want to find her: an underground slave ring. Going undercover to infiltrate the network, he meets Drucella Chapman—the mastermind's fiancée. Joss has every reason to believe she's evil. So why is he irresistibly drawn to her?
A DANGEROUS GAME
Drucella has made it her personal mission to bring the slave ring down. But the sadistic ring leader is even more careful than he is cruel. In order to gain information, Dru has had to get close to the very man she wishes to kill, using her gift to read his memories bit by bit. She'd do anything to finish the job, but agreeing to marry him may have been a step too far—even for her.
A FATEFUL ENCOUNTER
Though Joss and Dru are both undercover, nothing can disguise the sense of déjà vu they experience when they meet. Neither can afford to be distracted from the mission at hand, but perhaps their reunion is exactly what this mission needs…
BN | BAMM | Indiebound | Amazon | Book Depository