Romance in the Highlands is hosting a blog tour for WRECKED… want to review it?
If you're a book blogger, this is your chance.
I only have a limited number of ARCs and most will be used in giveaways, etc, so if you want to review, this is one of your best chances.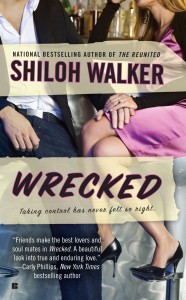 In the nineties, Abigale Applegate and Zach Barnes were the most beloved sitcom child stars in the world. Then they grew up and left Hollywood behind…
Whatever happened to Abigale Applegate?
She's been wondering the same thing.
With her Hollywood dreams long gone, Abigale now has a nice, neat, uncomplicated life—until the day her perfect fiancé needs to talk. Dumped, a little more than shattered, and totally confused, Abigale turns to Zach, her best friend since forever, to help her pick up the pieces. He does it with a gift—a copy of Wreck This Journal. She can vent her frustrations, and sketch out a new plan. Zach just hopes he's part of it. Because he's been in love with Abigale his entire life.
When the journal falls into Zach's hands, he discovers Abigale wants a new man. And fast. Nothing more than a hot distraction. Zach has a strategy, too. He's going to be that man. It's his last chance. Abigale might be out to shake up her life, but Zach's out to reinvent it. Now, all he has to do is convince Abigale that life can go as planned.
snippet!
"What in the hell just happened?"
Zach's lips touched the back of her neck. "Well, I'm no expert, but I think you kissed me," he said, his voice teasing. "And I'm pretty sure we both enjoyed it. But maybe we should try again."
And then she found herself on her back, staring up into a pair of dark blue eyes that she knew very, very well. They'd always seemed to glint with mischief, or trouble . . . but she'd never realized just how much they glinted with that kind of trouble.
Not until now.
As his mouth came down on hers again, Abby barely had time to catch her breath. Then she was wondering why she'd even bothered. He stole the oxygen right out of her with his kiss.