I really should count up how many books I've done, but I'm too lazy.
Anyway, here's my next…and my first.  Sort of.  Under a new name.  It's out today…Sexy Little Surprises, written as J.C. Daniels.
Snippet!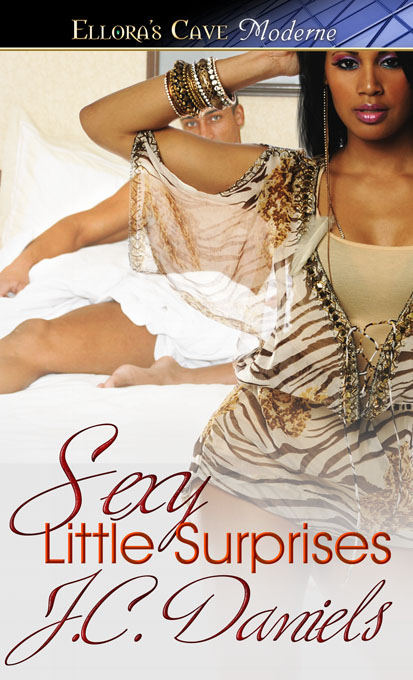 Meet me in Room 145.
That was what she'd written on the note she'd placed inside the envelope.
All damn day, she'd worried he might not come and now…now she was waiting. It occurred to her that he might not show up.
At least not unless she outright called him and told him who was sending him all those sexy little surprises.
Alexis was having fun, though, playing the secret admirer to her husband. They hadn't had fun in a long while.
Not since—
"No. Not the time to think about it." She slid off the bed and paced across the room to stare outside. The conference hotel was just down the street from the station and her room's location was ideal. She could see him coming, if she watched. She'd asked to see the room before she reserved it and it had been just perfect.
Before that long-familiar pain could unbury itself, she focused on here. On now.
That pain would never go away, she knew that.
Closing her eyes for a moment, she rested her head on the glass. She missed that little girl…she'd missed out on finding out who she would have been, missed out on holding her. But the grief had torn a hole in her marriage and it was well past time to movebeyond this.
Stroking a hand down her white, silk chemise, she rested a hand on her belly and focused on Garrett. On her husband.
They'd forgotten themselves and that was the problem.
This time was about them. That was what the gifts were about…what the past two days had been about. For her. To have fun with him again. And yeah, he hadn't figured out it was her, but she'd clue him in.
They could take a little while to start having fun with each other again. Rebuild their marriage, and once it was stronger, they could maybe talk about the things they'd lost…and see about building that path again.
But first…he needed to show up.
Elloras Cave (other buy links to come as they are available)