There's this song… it's like…ah…nirvana to me.  I don't know why, but I hear it and I just…wow.
That's it.  It's wow.
It's Walking in Memphis by Marc Cohn and I found out last week that he was the opening act for Bonnie Raitt here in Louisville on Mother's Day.
Full confession… Bonnie Raitt's music is decent, but I went to that concert for one reason.  Marc Cohn.  I asked my guy if he'd bought me anything yet and he hadn't, and I asked if maybe he'd be up for a concert…and he was.  So that was my mother's day.  He took me to see Marc Cohn.
And…I didn't know this but he was signing CDs out in the lobby during intermission. I got to meet him.
I even got a picture with him. But no… I'm not posting that.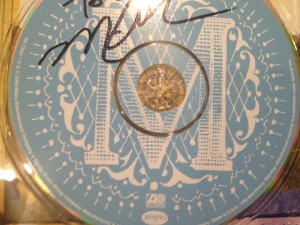 to my guy… thankyouthankyouthankyouthankyouthankyouthankyou!
and to Lou @ Loueyville… thank you for the headsup! You are awesome.