Finished working on this sooner than I expected but thought there was no rush cuz I still needed the cover.
But…well, I haz that too.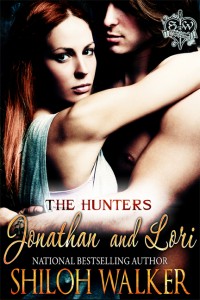 "You want a fairy tale prince. I'm the monster from the fairy tale."
Lori isn't looking for a prince and sexy werewolf Jonathan isn't a monster.  Very often he can be pigheaded and he has more than his share of personal demons.  But a monster?  Not quite.
Of course, Lori, the local healer, knows he's not going to believe that.  He looks at himself and sees that monster from a fairy tale. He looks at her and sees somebody sweet and innocent.
When an attack on the local band of Hunters drive them together, Jonathan can feel his control shattering.  He's unable to keep his hands off the woman he's wanted for so long, but at the same time, he knows he doesn't deserve her.
Lori has her hands full , too…dealing with their enemies, dealing with him, dealing with his demons…trying to convince him to give their love a chance.  Before it's too late.  Before both of them lose everything…
FYI, the price on this one will be $3.49.  That's a bit higher than the others, but this one is longer and it also needed more work than the other two.  Basically that's what I'm going off of when I price the ebooks.  How much time was invested in them and even re-issued ebooks do require time.  But still, that's cheap! 🙂
I'll get info about the various platforms once it's up and ready.  Also…
Watch the pages on Amazon, BN, etc for HUNT ME and HUNTERS DECLAN AND TORI.
I'm dropping the prices on those for a little while to celebrate the release of HUNTER'S RISE.
Back Jonnie & Lori…
They are at ARe & Smashwords now.  Will update once Amazon & BN clears them through (FYI…that's up to them, not me) Up now!
ARe |  Smashwords | Kindle | Nook