Just a week from tomorrow…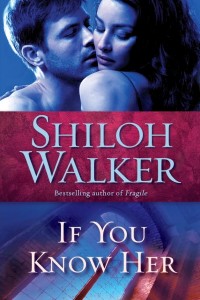 Staring at her averted face, Law tried to figure out just in the hell she wanted him to say—what she wanted him to do.  Would she be happier if he just told her to shove her apology?
Hell.  This wasn't familiar territory.
Looking away, he rubbed the back of his neck.  "Look, I just…"  Her gold eyes cut his way and he blew out a breath, struggling to find something, anything to say.  "Would you feel better if I told you to just fuck off?"
To his surprise, a faint smile appeared on her face, tugging up the corners of her mouth for the briefest seconds before dying.  "I don't know if I'd feel better, but it seems a lot more plausible than you telling me 'okay'.  I know I sure as hell wouldn't be saying okay to somebody who pulled the crap I had."
"Maybe you'd surprise yourself," he said softly.  If she'd seen the way she looked…And damn it, he needed to quit thinking about that.  Like now.  Although really, it wasn't that much better to think about how she looked now, either.  Even with that irritated look on her face, there was something so damn appealing about her.
"I don't think so."  She shook her head.  "I rarely surprise myself."  Then she sighed and flicked her fingers through her hair.  "I have to go. I'd say it was a pleasure seeing you but…well."
"You'd be lying," he finished.  "How about interesting?  I can't say it's ever been not interesting."
"Well, seeing as how you've met me all of twice."  The smile on her face now was a real one, at least.
He tucked the memory of it inside his mind as he watched her walk away.  He also lingered long enough to enjoy the view…hell, he was a guy, and it was too nice of a view to not watch it.
Or…you can just preorder!  🙂
Amazon | B&N | Booksamillion | Indiebound | Book Depository