UTA: Contest is closed as of 10:15 EST, 3.1.2012.  Winner will be posted on 3.2.  Thanks!
Lynn Viehl is guest blogging with us today…she's got a new series coming out, LORDS OF THE DARKYN. The first book, NIGHTBORN, is due out 3.6.2012.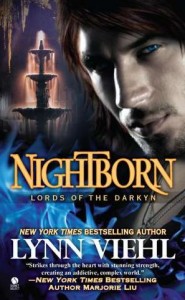 And this post…killed me dead… LOL
Ten Things You Don't Know about Me and Shiloh Walker
By Lynn Viehl
 When I couldn't think of any cool names to serve as an alias for the protagonist in Frostfire, I borrowed hers (without asking, actually, but it was the night before my deadline was up and I figured she'd say okay.  I then promptly forgot to tell her about it.)
 She is one of only a handful of writers who pulled off an ending I never saw coming (Quinn's book.)
 Our friendship ranks among the top five of the longest I've ever had with anyone.
 I buy all her books, which also have their very own shelf in my book room.  Which will soon be two shelves if she keeps on being so prolific.
 She has strange psychic e-mail powers; her funniest always arrive in my inbox at the exact moment when I'm thinking of doing idiot things like deleting my blog or unplugging from the internet for good.
 Some of my highest praise for another female writer is that she doesn't suck up or take crap from anyone.  Shiloh earns this praise more often than any other female colleague of mine.
 Her first e-book is catalogued as E-1 in my personal digital library because it was the first e-book I ever owned and, in fact, started my e-book collection; she was also the first e-book author I got to know personally (this all happened way back when everyone besides me considered e-books truly evil and their writers definitely Satan's minions in disguise.)
She is one of the toughest writers I know (hide of titanium), and also one of the kindest (heart of marshmallow fluff.)  That's a mix you rarely find in this business.
We've never met in real life, but judging by photographs, we look alike enough to be mistaken for siblings (as long as I can be the much older sister.)  Our hair is the same length, we're about the same height and weight, and the glasses she wears have the exact same frame as mine.
 Speaking of pics, Shiloh is the only writer who hates being photographed as much as I do, which is why this* is my favorite photo of her.
*It also proves that she can blur reality and warp time, tricks I'm still waiting for her to teach me.
(added by Shiloh, if I can do those things, I wanna know how I'm doing it…)
Thanks to Lynn for coming by…and there's a giveaway…You all suck.  Because I want the prizes.  But good luck.  😉  To enter, just leave a comment or question for Lynn. 🙂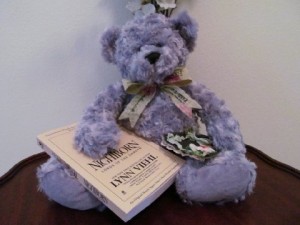 The prize:
The bear is a new ultra-soft Ganz teddy in lavender, to which I added a French-themed stamped floral ribbon around the neck.  He's holding a real lavender French sachet handmade by yours truly.
FYI, if you're new here, make sure you check out my disclaimer before you enter.  Entering means you've read the disclaimer and agree.  The big thing-I post winner's name here as way of notification and that's how you'll know.  Meaning you have to check back. I'll post the winner's name by the end of the week. If you don't check back, you don't know if you're the winner, meaning you can't claim it and you only have 2 weeks. Also, void where prohibited and all that jazz.  All rules are posted there.