Winner to be posted shortly (upcoming week.)  At this time, the giveaways are now closed for comments.  thanks and be sure to check back to see if you were the winner!
Next Round! (FYI, the winner must check back to claim the prize-if you think you might forget, try setting up a google alert. It's easy, I promise…) Also, because I've been emailed/asked… all entries made be made via the comments section of the blog.  Not thru email/Goodreads, etc.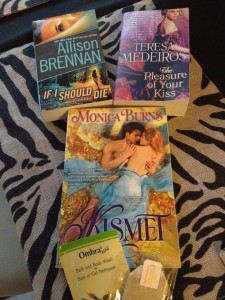 From THE DEPARTED…
"Several million people live inVirginia,"Taylorpointed out.
"True." Blake leaned forward, elbows braced on his knees. "But several million people don't have a rep for being psychic, do they?"
Shit. Taylor met Blake's gaze. "You realize if you go around handing out stories like that, you'll get laughed off the police department, right? And, Blake? If you can't hold a job with the French Lick Police Department, you aren't going to find another police department willing to hire you, I don't think."
"Is that a threat?" Blake stared at him, his gaze flat. And rather unimpressed,Taylorthought.
"Just a comment—pointing out the obvious." He sighed and rubbed his hands over his face.
Blake snorted. "Do I look stupid to you? I don't plan on spouting any sort of shit. Like you . . . I'm just pointing out what's obvious to me. Smoke follows fire and all that. Your girl? She's smoke. Which means, she's following fire."
"Fire?"Taylorstared at Blake.
"Yeah. Meaning Mark." He stood up and glanced down the hall. "He used to be a good kid. Maybe he still is, I don't know. But if she's hanging out here around him, well, my gut tells me there's trouble."
Taylorfollowed Blake's gaze and saw Dez as she cut down the hall—not toward him, but a different way.
"So. Is there trouble?"
Taylor sighed. "With Dez, there's almost always trouble."
Read More
B&N | BAMM | Amazon | Indiebound | Book Depository
I got the Monica Burns book at Lori Fosters… one of the swag giveaways I meant to do and never did. So now it could be yours. Also? Allison Brennan and Teresa Mederios.  Two authors I adore.  I bought those and they can be yours.
To enter, just tell me a couple of authors you'd share with the world.  I just listed two, but I'll list a few more… Nora Roberts, SL Vieh in all her incarnations, Ilona Andrews, Stacia Kane and… I must add Thea Harrison. She's quickly climbing up on my list.
All names entered will go into the pot.  One winner will be drawn at the end of the contest and posted here.  Make sure you read my disclaimer-the winner is responsible for checking back to see if they've won- (hint…you can always set up a google seach for your name/whatever handle you see use.  Good way to keep track of contests).
Entering means you agree to the rules and that you've read the disclaimer.
More prizes will be randomly added with each giveaway post. (Or that's the plan…) Entries must be made at my blog, not via facebook, twitter, GR, etc)