So somebody** out there is knocking romance.  Again. Yawn.  This one is almost entertaining because…
He starts mentioning how romances won't ever be discussed in colleges, when they actually already are.  Ask Sarah of Dear Author or Jessica at ReadReactReview… a couple of smashingly brilliant women who happen to be scholars.
He actually mentions a professor at Harvard?  And gets her sex wrong…and misspells her name.  Yes, this, clearly, is a man we should listen to…
He has a donate button in the sidebar of his blog.
Wince.  Sorry.  I'm kind of leery to give a lot of weight to an writer who does that.  Especially if he's not offering anything but a few overblown opinions. Plus, he knocks romance.  Hello… he clearly does not get just how much we read.  Or what we read.
Me? I read:
Romance
Urban Fantasy
Fantasy
Thrillers (some)
Science Fiction, although pal…I won't touch yours
Horror (when I'm in the mood)
Guess what…so do a lot of romance readers…we are voracious readers.  But once somebody knocks my genre of choice?  On that DO NOT BUY…EVER…list.
Anyway, carrying on.
I made a comment.  He deleted it.
So I made another.  Here's the text, since I'm sure he'll delete it again.
Wow, so having it pointed out to you that your blog, does, it fact, have a donate button bothers you, huh? Or is it the fact that the romance novelist who is making the comment doesn't need one on her blog the rub?

Don't worry, I'll screen cap the comment and blog and save the JPEG so I can post it my site for my own follow up post tomorrow.

Anyway, the point of my comment WASN'T the donate button, which you apparently took issue with-but the fact that romances brighten peoples' lives. Because certainly, that can't be the problem, and thus the reason you deleted it.

I mentioned that I've had readers email me about how the fact that a book where a heroine overcomes rape and abuse and goes on to work with abused kids. The book helped some heal. It helped others find a voice. Surely you didn't take issue with that. Why would that bother you?

It couldn't be the fact that I've had readers email me thanking me for helping them through loss, divorce and illnesses, whether it's a cold or cancer. Why would you take issue with that? Unless, of course, it challenges your viewpoint on romance.

I clearly stated that I don't know if my books will ever be discussed in colleges or universities and I'm not bitter over this-because I bring a bright spot to lives. That's enough for me. Why would that comment have bothered you? Not sure.

Yeah, it had to be the donate thing. And I also admitted it was petty. It's truth, but petty. If it bothers you…well, I could apologize, but it would be lying, because I'm not sorry. I don't believe in saying things I don't mean.

Perhaps I'm not a good liar…however, I'm a pretty good story teller.

Before you knock romance, try writing one. And selling one…not on the kindle or the nook, but the hard way. To a traditional publisher. It's not as easy as one might thight.
And damn.  I made a typo.  Oh, well.  As one might think.  What do you expect of a no-class romance writer, anyway?
Oh, by the way…here's the screen cap.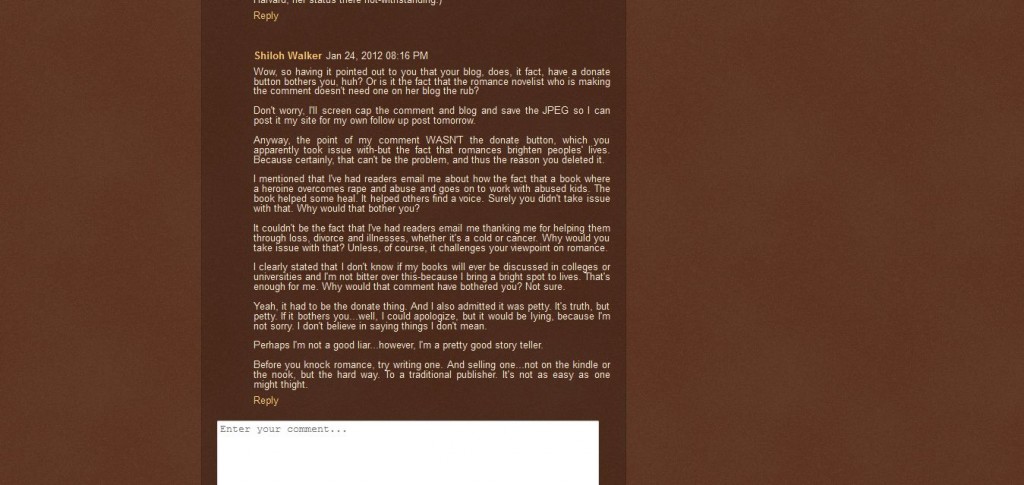 The screen cap, again, is because the first comment got deleted.  Yeah, I was a little flippant, which is my norm. But I was actually well behaved, for me.  Oh, well.
Whatcha gonna do?
He also deletes comments like mad, just FYI.  Sarah from DA made a particularly brilliant one that called him on a few of his errors…
The International Association for the Study of Popular Romance (http://iaspr.org) is an academic organization that is devoted to the study of romance in all popular media. This, of course, includes romance novels.

IASPR (of which I am the President) has an annual international conference (http://iaspr.org/conferences) and a fully peer-reviewed academic journal (http://jprstudies.org), both of which strive to demonstrate how romance narratives operate in our lives. Courses that focus entirely on or include popular romance novels are indeed taught regularly at many prestigious universities around the world, including, yes, Bill Gleason's courses at Princeton University.

While I'm sure none of this academic interest in popular romance fiction will change your mind about its literary merit, worth, or value, I thought your readers might be interested to know it's out there.

In her Northanger Abbey, Jane Austen, the Ur-Mother of Romance, said of "novels" — the "popular romance fiction" of her day — that they were, "in short, only some work in which the greatest powers of the mind are displayed, in which the most thorough knowledge of human nature, the happiest delineation of its varieties, the liveliest effusions of wit and humour, are conveyed to the world in the best-chosen language." The same might be said of romance novels today, word for word.

While your personal opinion is valid merely because it's yours, it does not make it fact, nor does it invalidate other peoples' opinions to the contrary. And some of those people DO have Ph.D.s from and teach at incredibly prestigious universities.

(Jung Choi, by the way, is female, and does, in fact, teach romance novels at Harvard, her status there not-withstanding.)
Screen cap of that one…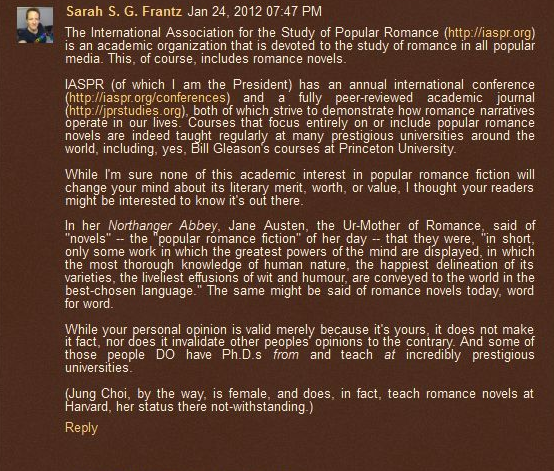 So she points out that there are, in fact, academic organizations devoted to romance. (Which kinda proves the dude wrong, yeah?) And he deletes them.
Plus, he also gets Jung Choi's (I'm sorry, not familiar this individual) sex wrong. Deletes the comment correcting him.
Wow. Why delete that? Unless of course he can't handle having somebody point out the places where he was…kinda…ya know…wrong?
He's allowed to have his opinion, sure. We're allowed to have ours. We know the power of romance.
When I miscarried, I wanted a romance. I wanted things that brought me pleasure, that made me smile.
When I had the hell year in 2010 and lost not just one friend, but three?  I wanted something that would make me smile.  I wanted a romance.
Somebody mentioned:
AJAJan 18, 2012 06:02 PM
Agree. These books neither challenge nor engage on any meaningful level.
I've lived.  I've lost.  I work in a very stressful, hectic career. Beyond that?
I have a happy, healthy marriage and you want to talk challenges?  That is one.  We're raising three kids.  That is a challenge.  I have challenges. Life brings me challenges.
When I read romances, they make me think…and yes, they do…they make me think, they take me to magic places, they take me back in history, they take me to alternate worlds, they make laugh, they make me cry.
M-W.com:
en·gage (link)
: to provide occupation for : involve <engage him in a new project>
Yes.. these books involve me.  In short… they engage me.  Do they engage others? Yes…millions… Most of us are college educated, involved in a committed relationship, and we read romance because we enjoy them.
On that note…let me introduce myself.
I'm a nurse, although I only work enough to keep my license active. I've been a fulltime writer since 2004. I'm married. Quite happily, to my high school sweetheart.  We've been married more than 15 years now.
We have three kids. The older two are in the honors program and my son, it's suspected, is well beyond 'gifted'.
My oldest daughter is 12 and has written more than five books already-plus, she's also had a book read by an editor and an agent.
My youngest is five, and if she turns to the dark side, the whole word in trouble. She is already 'writing' her own songs, and trying to play the guitar.
So please tell me… how am I 'contributing' to this staggering illiteracy problem, may I ask?  By raising some super-sharp kids who are already reading well above their grade level?  Like many romance readers, I passed my love of reading on to my kids.
My passion is romance…the stories, contrary to what you think, are not the same. Because they are about two people falling in love, and the journey of falling in love is never the same.
Why do I love romance?  Because, plain and simple, I love character driven stories and I love that slow, gentle glide into love, that crazy free-fall.
It's the most amazing thing.  I feel it every time I look at my husband.  When he sits at the table and teases the kids, or me.  I love to experience the milder side of it when I'm sitting down and reading a good romance…it's a milder side, because nothing compares to the real thing.  But the journey is always fun.
No other genre out there offers me that.
Now…before you persists in knocking romance, how formulaic and easy they are to write?  (And therefore publish, I'd assume)…perhaps you should write one.  Sell it. Publish it. And not on a self publishing platform, either, because anybody can do that (although not many can do it well).  But do it the hard way.  The traditional way.  You might be surprised at how hard it is.
I dare you.
**(ETA…by the way, I think I took out the links in the pic, but they were in his blog until he deleted them.  His name is Cale McCaskey.  If you want to read his stupendous…google.  I don't wanna give him more blog hits)