I've gotta admit, I've been looking forward to this guy's book for a while.  It comes out next week and damn it, I wants it.
After I read the guest blog he wrote for me?  WANT IT EVEN MORE.
Say hi to Myke Cole…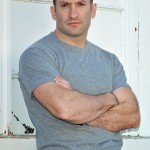 Here's the info about his book, which I think you all should read.
SHADOW OPS: CONTROL POINT
Army Officer. Fugitive. Sorcerer.
Across the country and in every nation, people are waking up with magical talents. Untrained and panicked, they summon storms, raise the dead, and set everything they touch ablaze.
Army officer Oscar Britton sees the worst of it. A lieutenant attached to the military's Supernatural Operations Corps, his mission is to bring order to a world gone mad. Then he abruptly manifests a rare and prohibited magical power, transforming him overnight from government agent to public enemy number one.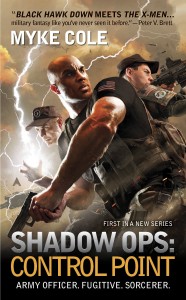 The SOC knows how to handle this kind of situation: hunt him down–and take him out. Driven into an underground shadow world, Britton is about to learn that magic has changed all the rules he's ever known, and that his life isn't the only thing he's fighting for.
And onto the guest post…
from Myke
If there's one thing that bugs me about being a genre fanatic, it's when you run into folks who have already made their minds up about how your genre functions and why they're not interested.
Like most haters, these people have inevitably never read anything in your particular genre, or if they have, it's just the major classics, most of them totally not representative of where things stand today.
Fantasy? That's magic and elves, right? Harry Potter? Kids stuff. Comic books? That's for kids. Science fiction? You mean like Star Trek? I watched a few episodes when I was a kid. There's more serious stuff on TV now.
Argh. Must. Control. Impulse. To. Strangle.
Instead, I try to interest folks in genre by recommending books or comics that I think have broad enough appeal to hook non-speculative fiction readers and bring them into the fold. I've had some success with this (using George R. R. Martin and Peter V. Brett for novels and Bill Willingham's Fables for comics), and I'm really proud of the nerds I've helped create.
So when I went pro and began looking more widely at my writing career, I refused to stigmatize any genre. I want to be a writer, not just a genre writer. I want to have the option (and the skill) to throw my pen in any arena that strikes my fancy. I've done a lot of non-fiction writing, mostly on counterterrorism/military theory, but it's a sector I enjoy and would be happy to get back into. Ditto for military public affairs writing (an entirely different style). I'd love to write for comic books, or video games.
So, yeah. Romance.
I'd been raised with all the misconceptions and stereotypes that everyone has about the genre: parodies of category titles, Fabio lounging shirtless on the cover, some heaving-chested damsel swooning in his arms. I knew that was over-simplistic, foolish. I knew that romance writers put every bit as much blood and sweat into their work as I did.
And then one day I went to meet my friend Cassie Alexander at RWA in Times Square. I got on the escalator and was checking twitter on my iPhone when it finally deposited me on the convention floor and I looked up.
There were no men.
No, seriously. Not one.
I've since been informed that there were some men there, but I just didn't see them, but everyone has admitted to me that they were few and far between.
And through my whole lunch with Cassie, I couldn't stop thinking "There's a man on the cover of most of these books. Why aren't there any at this convention? Don't men write these books?"
As it turns out, not usually. And when they do, they assume female pseudonyms.
Now, I remember getting mighty pissed when I first found out that Andre Norton was a pen name deliberately adopted to make her work more marketable. Ditto for Robin Hobb. The thought that a woman couldn't just be a woman writing fantasy and science fiction seriously burned me.
So the more people told me that men (writing as men) couldn't write romance, the more I became determined to do it.
You know, in my copious spare time.
I met up with my friend Laura Anne Gilman (no stranger to the genre herself) and told her that I wasn't real happy with folks telling me what I can and can't do. She told me to calm down, take a deep breath, and first learn what the hell I was talking about. She gave me a long talk about the history of the genre, explained the range of styles from single titles to erotic to category (sternly warned me never to use the term "bodice-ripper") and left me with an old trade paperback of Nora Roberts' Night Tales.
A little Internet research reminded me of just how vast this genre was, how much history had already existed before I even started paying attention. As I realized how much I had to learn, my desire to write in the genre waned (daunting hard work'll do that to you).
In a development that surprises exactly nobody, Roberts didn't disappoint.
So, I moved on to Lora Leigh. Nauti Nights made me blush, and I spend much of my time working with sailors.
And it was fun. Romance and romantic relationships are every bit as interesting to men as they are to women. Sit a bunch of guys down, give them alcohol, and leave them alone for an hour. If the conversation hasn't turned to sex after fifteen minutes, check their collective pulse.
Jessica Scott tweets a lot that her books are being read not only by men, but hard-bitten army operators (a special-forces Command-Sergeant-Major was her latest convert). So, clearly the trend is changing, but not fast enough in my opinion.
If just my brief sampling of the field is any indicator, the romance genre is a pack of outstanding writers who are simply focusing on a different subject. That's no reason for a gender divide. Men marry, men screw, men fall in love. Men spend a lot of time thinking about those things. It preoccupies our minds every bit as much as it does women.
I'm hoping for a day when I see erotic romances on the shelves written by male authors under their own names, and to walk into a future RWA that's a little more gender-equal. Who knows? Maybe, if the writing gods are good, I'll be able to make a real go of this and eventually make good on my threat to write a romance some day.
RWA 2015. See you there J.
Myke Cole
www.mykecole.com
www.facebook.com/mykecole
www.twitter.com/MykeCole
Bio…Myke Cole is the author of the SHADOW OPS military fantasy series. The first novel in the series, CONTROL POINT, will be coming from Ace (Penguin) at the end of this month. As a secu­rity con­tractor, gov­ern­ment civilian and mil­i­tary officer, Myke Cole's career has run the gamut from Coun­tert­er­rorism to Cyber War­fare to Fed­eral Law Enforce­ment. He's done three tours in Iraq and was recalled to serve during the Deep­water Horizon oil spill. All that con­flict can wear a guy out. Thank good­ness for fan­tasy novels, comic books, late night games of Dun­geons and Dragons and lots of angst fueled writing.
And…because I suspect this is going to be an awesome book, I'm doing a giveaway of Myke's book.  Want a copy? Tell me a genre that you normally don't read but that you think you might want to try.  I'll draw one random winner and you'll get an unsigned copy of Myke's book.
My standard rules apply, international is fine, don't post to sweepstakes sites…void where prohibited, odds of winning depend on number of entries, read the disclaimer, etc, etc, etc…