Winner to be posted shortly (upcoming week.)  At this time, the giveaways are now closed for comments.  thanks and be sure to check back to see if you were the winner!
More for the goody bag! And if the winner doesn't claim this one?  I eat these. (FYI, the winner must check back to claim the prize-if you think you might forget, try setting up a google alert.  It's easy, I promise…)
From The Departed…
"Would you just think for a minute?" he snarled. "It's not like you don't need the time off."
"But three months?" Her voice broke. She couldn't . . . three months. The voices . . . no. The ghosts that haunted her all too often. They pulled her from her sleep if she didn't seek them out. She couldn't go three months—even thinking about it was enough to make her head threaten to split, that darkness edging up on her. It was hard enough to get through a week without following those whispers. As long as she answered them, she could stay sane. But if she didn't . . .
Now he wanted her to take three months away from it?
And three months without seeing him?
He doesn't want to see you anyway.
Yeah, she was getting that picture.
"You need to take the time off," he said flatly. "And you need to rest. And we . . . need time to get our heads on straight." Something she couldn't quite read moved through his eyes as he studied her face.
She couldn't read it, but it hurt—left her heart aching and empty.
Get our heads on straight.
In other words, he wouldn't change his mind, wouldn't try to find a way to make things work—even though she knew, without a doubt, he had feelings for her.
"What's the purpose of getting our heads on straight? Tell me that." Oh, hell. Even she could hear the catch in her voice now.
"We have to get back on even footing."
"Or . . . ?"
He didn't answer.
Dez swallowed. "Shove your three months,Taylor. I quit."
I quit—
Read More…
Adding in today…a few of my favorite things.  From the local candy store, Schimpffs…which I love, and adore…yummy.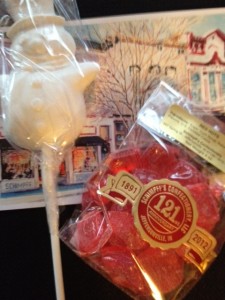 To enter… tell me one favorite memory from childhood.  I always loved getting things like this.  I can't remember when I first had a white chocolate sucker from Schimpffs, but it was love, I tell you.  LOVE.
The contest runs through the first week of January, when The Departed releases…
All names entered will go into the pot.  One winner will be drawn at the end of the contest and posted here.  Make sure you read my disclaimer-the winner is responsible for checking back to see if they've won- (hint…you can always set up a google seach for your name/whatever handle you see use.  Good way to keep track of contests).
Entering means you agree to the rules and that you've read the disclaimer.
More prizes will be randomly added with each giveaway post. (Or that's the plan…).  Entries must be made at my blog, not via facebook, twitter, GR, etc)