Winner to be posted shortly!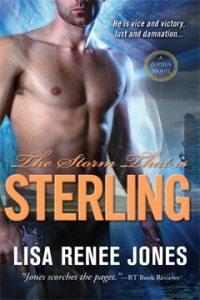 His cheek brushed hers, whiskers erotically scraping against her skin, his breath warm against her ear as he whispered, "If I instinctively know something so simple as how to order your dinner, think what else I might know about you. What we might know about each other. How to tease each other… How to please each other."
There was an emptiness inside her that shuddered with hope, with a plea that he would drive it away, fill it with something that wasn't icy and cold.
He pulled back and looked at her, his eyes dark, passionate. Compelling. "No regrets, Becca," he vowed, and she knew he'd found those words in her head. Words she'd sworn to live by when she'd left that German hospital without a cure. Words she'd spoken in her head in the lab earlier with him there.
She rolled them around inside her and let them take root, rewarded herself with a deep inhalation of Sterling's addictive, masculine scent. "No regrets," she said softly.
A slow smile formed on his lips. "I love it when you agree with me," he teased.
Becca laughed. "You're crazy."
"About you," he said huskily.
She felt a little schoolgirl rush from that. In the past, she would have felt like the geeky bookworm with the quarterback, uncomfortable and out of her league, but not with Sterling. Never before had a man taken her from such dark emotions to laughter. A place she might just find real escape.
She pressed her hands to his face, her lips to his. Absorbing him. Breathing him in like a little piece of life. They lingered that way, heat simmering between them. Expanding… drawing them in closer to one another without ever moving.
His tongue flickered against her lips, pressed past her teeth as he slid it against hers for a long, sensual taste. "Your kisses taste like honey," he murmured. "What does the rest of you taste like?"
She shivered at the erotic comment—the promise he was going to find out. He kissed her again. Crazy-wild, hot-kissed her, and she loved every second of it. Loved his tongue, his lips, and his hands sliding through her hair, over her face.
Becca ran her fingers through his thick, blond hair. She loved his hair—a little wild like him. Hot like him too. With each stroke of his tongue, each touch of his lips, she felt liberated.
Her palms traveled over his chest—warm, hard muscle, her reward. She was extremely, intensely interested in those muscles, like the best science project in the world that had to be studied. She explored his arms, his biceps, how they felt beneath her palms. Inching forward in her chair, she arched into him, for research purposes, of course. To explore how he would feel pressed close to her. Her breasts ached for his touch, her nipples tight and swollen, in need of his mouth. God. Had she really just had that brazen thought? She was a good girl; she always had been.
His hands slid over her breasts, fingers teased the stiff peaks of her nipples. Her hands covered his, silently telling him she wanted more, because she couldn't ask or demand. Because she was still that "good girl" at heart and couldn't seem to let it go.
But she didn't want to be a good girl. If anyone knew the meaning of "life is short," she did. Becca ran her lips over his jaw, hid her face in his neck, and nibbled as she said, "You know what I want?"
He slid his hands around her waist. "If you say Chinese food, I'm going to object."
"I'll give you a choice then," she said, feeling braver with his jest. "Feed me, or take off your clothes."
"I'm all for getting naked, if you are," he quickly agreed.
"You first," she bargained.
And while the idea of standing in front of him naked, him fully clothed, would make her feel vulnerable, exposed, it apparently had none of those effects on him.
"Okay," he said, unaffected by the idea as he pushed to his feet and started undressing. And only seconds later, he stood there in all his naked glory, and she sat there, fully clothed.
Coming in November 2011
In bookstores and in e-book!

Sourcebooks Casablanca (November 2011)
ISBN-10: 1402251599
ISBN-13: 978-1402251597
The Storm That Is Sterling.
Jones, Lisa Renee (Author)


THE BOOKLIST REVIEW….
Nov 2011. 384 p. Sourcebooks/Casablanca, hardcover, $6.99. (9781402251597).
The exciting Zodius futuristic suspense series features soldiers enhanced by a GTECH secret military experiment. Sterling Jeter, who is assigned to guard Rebecca Burns, the scientist working on an antidote for the highly addictive and fatal drug ICE. But Rebecca is also the high-school dream Sterling was never able to realize. She has cancer and tangling with bad guys who want her science skills for their ends has left her an ICE addict, too. She wants to take advantage of her time left with Sterling, while Sterling wants to protect her. As danger mounts, they try to sort out who is trustworthy. The GTECH and science details can best be followed with the help of the index, but they do not overwhelm the appealing characters or action. Jones' suspense truly sizzles with an energy similar to FBI tales with a paranormal twist by Julie Garwood or Suzanne Brockmann. Alpha, military, and paranormal romance readers will want Jones' entire series.

The cover copy:

He may be invincible to everyone else…

Sterling Jeter has remarkable powers and has shown himself
to be just about indestructible. But beautiful, brilliant Rebecca
Burns knows that even a Super Soldier needs comfort, and so
much more…

But she can see that deep down,he's just a man…

Sterling and Rebecca's teenage romance was interrupted,
but years later the heat between them flares back to life.
Even though it endangers everything they're fighting for, it's
impossible to resist picking up right where they left off…
To enter the T & C giveaway, just comment on today's guest blog! 🙂
Enter the Thrills & Chills giveaway…throughout the end of October and early November, Jaci, Shiloh & Lisa will be visiting each other's blogs, leaving excerpts & guest blogs. On those days, all you have to do is comment on the T & C guest blog or T & C guest excerpt (comment as often as you like, but you only get one entry per post). When the Thrills & Chills blog tour is over, one lucky commenter will win a Nook Color!
Void where prohibited
Contest is open internationally. In the event an international reader wins and doesn't want the Nook, a comparable prize will be offered. (Please note, the comparable prize will only be offered if an international reader wins.)
Comments must be made at the T & C guest blog/guest excerpts to count as entries
Comments left via facebook/goodreads, etc cannot be counted. (Facebook's rules mess things up, guys…it's not really in our control, hope you understand)
For the rest of the rules, please read the disclaimer…entering the contest means you've read the disclaimer and agree to it.