So I've got a galley of IF YOU HEAR HER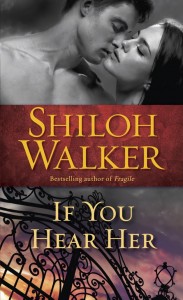 A CRY IN THE WOODS

The scream Lena Riddle hears in the woods behind her house is enough to curdle her blood—she has no doubt that a woman is in real danger. Unfortunately, with no physical evidence, the local law officers in small-town Ash, Kentucky, dismiss her claim. But Lena knows what she heard—and it leaves her filled with fear and frustration.

Ezra King is on leave from the state police, but he can't escape the guilty memories that haunt his dreams. When he sees Lena, he is immediately drawn to her. He aches to touch her—to be touched by her—but is he too burdened by his tragic past to get close?

When Ezra hears her story of an unknown woman's screams, his instincts tell him that Lena's life is also at risk—and his desire to protect her is as fierce as his need to possess her.
This is an 'open to anybody' giveaway.
Want it?  Leave a comment.  That's it.  I'll draw a winner next week and the winner's name will be posted to the blog.  FYI, entering the contest means you've read my contest disclaimer and agree to the contest disclaimer.  If you haven't read the disclaimer, please do so.  The winner's name will be posted here and that's the winner's notification-I don't email the winner.
There ya go.  Enter away…
**Please note…my spam filter is aggressive. Very aggressive…but I watch it and I clear out all legit links.  It may take a day or two-both Nicole & I are going to be gone for a few days so we'll be clearing it out as we can, depending on internet access.  If nothing else, we'll clear it out when we get back Sunday.  So don't worry, if your comment doesn't appear, it's just being held in my mod queue-it catches some for weird & unusual reasons.
Update: Nicole here, contest is now closed. Thanks everyone!