Hey bloggers…Want to get a free copy of Hunters: Declan and Tori? If you help me spread the word about the reissue, you might be able to…
This fall, the rights on the Hunters books started reverting back to me.  I plan on reissuing them all, with great covers, at lower prices.  The first one, Hunters Declan and Tori is at $2.99 and it's out now.
Reissues, especially self-released ones, don't exactly get the promo push that new releases do, and of course, word of mouth is everything.
So, if you help me get the word out, I'll give away some down loads of Hunters: Declan and Tori
All you have to do to enter is post the info between the ______________ and then leave me the link here. I'll draw 5 bloggers to get a copy.  No review necessary, although if you want to review it, hey, you're more than welcome to.
  _____________________________________
Reissued at a new, lower price…available at ARe  Nook & Kindle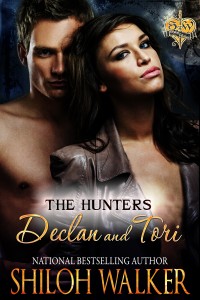 Book 1
Tori McAdams was a sensible woman. She didn't believe in hocus-pocus, she didn't believe in ghosts, and she definitely didn't believe in vampires…not until the night she was attacked by one. Alone, starving and afraid, she doesn't know what's happening but at least she had somebody to turn to…
Declan Reilly was normally the last person she'd go to for help, but now he was the first on her list. He can help; she knows he can. She never could have planned on what happens next, though…the sexy detective is so much more than he appears.
Warning: This book contains violence, sex, more violence, a maniacal murderer, sex, more violence, and a menage or two thrown in for good measure. There are also sighs, happy endings, a romance, a hero, a heroine, and a little bit of falling in love.
**Please note this work has been previously published. While it's been edited, no new material has been added.
_____________________________________
The excerpt link goes to https://www.shilohwalker.com/website/?page_id=39
You can use this to grab the cover …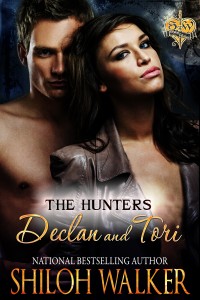 <div align="center"><a href="https://www.shilohwalker.com/website/?page_id=39" title="Hunters Declan and Tori"><img src="https://www.shilohwalker.com/website/wp-content/uploads/2010/05/DeclanandTori2300-200x300.jpg" alt="Hunters Declan and Tori" style="border:none;" /></a></div>