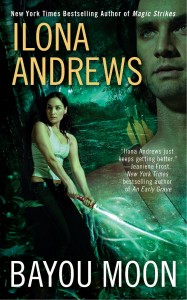 I forgot to draw a winner for the HEXED giveaway… it's
Jen B. says:

"I shook my head. 'No, my lord.'
He gave a faint smile. 'It began wehn Anafiel Delaunay de Montreve…Haver you heard of him?'"
I need Jen to contact me @ shilohwalker(at)gmail.com so I can get your book to you!
And now, today's Friday 56…it's another Ilona Andrews' book.  I'm on a kick…
Bayou Moon:
The damn thing had legs.  Fucked up place, fucked up fish.
Want to do the Friday 56?
About the Friday 56
Grab the book nearest you. Right now
Turn to page 56.
Find the fifth sentence.
Post that sentence (plus one or two others if you like) along with these instructions on your blog or (if you do not have your own blog) in the comments section of this blog.
Post a link along with your post back to this blog.
Don't dig for your favorite book, the coolest, the most intellectual. Use the CLOSEST.