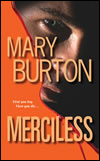 Mary Burton's Merciless
The Other listened to the police scanner, tapping his fingers against his thigh, waiting for any mention of the bones.
Reading this now…so far, so good.
This week's prize is going to be an unsigned copy of Merciless. To enter, read the rules…(remember, comments must be made at my blog to count as entries, not via FB, goodreads, etc)
About the Friday Reads
Want to enter for a chance to win this book? Do the following…
Grab a book…any book.
Turn to page 56.
Find the fifth sentence.
Post that sentence (plus one or two others if you like) in the comments section of this blog to enter
A winner will be posted here within a week or so-please read the disclaimer-entering means you've READ the disclaimer.
Void where prohibited.
Odds of winning depend on number entries.
Comments must be made at my blog/website to be entered, not FB, not goodreads, etc.
Winner to be posted at my blog-must contact me to claim prize.
Rest of my rules in the disclaimer–please read it.