over…winners to be posted to the blog in the next day or so.  Check back to see if you won.
So my surgery sort of threw promo plans for Hunt Me wayyyyy off track.  This isn't good.  To top it all off?  It's an indie project, which means…promo is everything!  I have to do something to get the word out.
Except it's sorta late to schedule much and I'm still playing catch from the time I've lost.
Sooooo…um.  Maybe you all can help me.  This is going to be a cross-social media sort of thing.  Twitter, tumblr, and blogs.  I'm going to give away some books…namely, a signed copy of Hunter's Fall once I receive my author copies.  Six winners–two winners via each avenue…meaning, if you help me push the book, you can win a copy of my next Hunter book.
If you tweet, blog and use tumblr, you can even enter all three ways.  Of course, you'll only win one copy.  But you only need one, really.
No reviews are necessary to do this, either.
Just help me spread the word about the book…I'm hoping between you all helping out and Nicole managing things on this end (It's a good thing she loves me), maybe the book won't be totally forgotten.
And THE BOOK is I need to push…
******
Hunt Me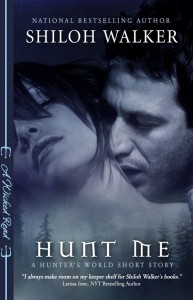 She's been keeping secrets…

Drew Quentin has been crazy about sexy Dakota Coulter from the moment he met her, but after two years of dating, he still doesn't have her phone number. Sooner or later, a man has to move on.

That was the plan. But the night he broke things off, things went from bad to worse…and he figured out some of her secrets…bloodthirsty secrets.

Dakota Coulter is having a lousy night. The man she loves just broke up with her. And she can't even take an hour to sulk, because duty calls—and as a Hunter, she must answer.

Being a vampire is hell on the love life, that's for sure. But it will get better, right? Just do the job, get out of town and oh…avoid the ex-lover who is suddenly out to track her down. Too bad a happy reunion is soooo not on his mind.  Excerpt
******
This ebook will be available via Smashwords, All Romance Ebooks, Kindle, & the Nook store.  It should eventually make it onto the Sony, Apple and a few other places.  Those just take a little longer.
Now… how do you enter?
Easy.  Just spread the word.  Either tweet it, tumblr (is that how you do it with tumblr?) or blog about it. (was originally going to include Facebook, but their rules make it a no-go, sorry folks!)
Twitter
Tweet it however you want, just make sure you include @shilohwalker and a link to the book's page < https://www.shilohwalker.com/website/?page_id=21264 >and #huntme  (that way I keep track).  You can leave a link here to your tweet, that's up to you.  I'll draw the tweet entries using the hashtag.
Tumblr
This one is soooo easy…just reblog it.  Follow me and reblog my post about Hunt Me and I'll draw the winners from those who've reblogged.
Blogs
For this one, you'll need to post info about the book, like the blurb and the cover, and a link to the book's page < https://www.shilohwalker.com/website/?page_id=21264 > -you can just copy/paste the info between the ****** and then leave a link to your blog here in this thread.  (if it doesn't show right away, don't worry, my spam filter catches a lot of things with links, but Nicole or I will clear them out)
Easy way
Don't want the non-bloggers, non-tweeters, non-tumblrs out-I'll also give away one copy randomly.  Just email contest4shiloh(at)gmail.com.
That's it. If you already do all three things, you can enter all three ways.  But keep in mind, I'm not going to consider any entries that from blogs, twitter pages, tumblr pages that just pop up today.  Sorry!  That's the big thing here, it has to be established, as in set up before today.
If you want to tweet it multiple times, feel free.  You can tweet it up to five times a day-just make sure you follow the guidelines above.
However, you can only blog & do the tumblr thing once.  Well, if you wanna do it more than once, you can, but you only get one entry.  Unless you have several active blogs-if you do, then you can enter/post to as many blogs are you run and as long as you follow the above rules, you're entered-one entry per blog.
As mentioned above, there will be six winners, two via each platform, blog, tumblr, & twitter.  Each winner will get a sighed copy of Hunter's Fall. The contest will only run for a few days and I'll update it here when I end it.
As always, the main rules for this
Open across the globe
The winner has two weeks to contact me or the prize is forfeited
I reserve the right to modify/end contests early (not likely as long as contest doesn't end up twitter-sweeps/contest sites)
Do not post this contest to twitter sweeps/contest sweeps/etc.  These sites are like 'catch all' sites that list nothing but contests.  I recently ended a contest early because it ended up on this site.  I awarded the prize, but the contest didn't last as long as I'd originally planned and that twitter user who posted it to the contest site is why.  In my disclaimer, I reserve the right to do this, and I can/will exercise it.
For the rest of the rules….check out the disclaimer-fyi, entering one of my contests means you've read my rules and agree to them.