Quick reminder… EC has slashed prices on more than 150 titles at places like BN's Nook store, the Kindle store and ARe.  If you've wanted to check out some of my EC titles, now is a good time.  There's a link to Hunters Declan and Tori on my sidebar…it's the featured read for the next few weeks.
I recently registered for the Moonlight and Magnolias conference in Decatur, Ga. I believe there is a booksigning…so I may be signing there in September.
I have copyedits.  Massive.  Not any rewrites, just line edits, typos, etc. I think it's been probably well over a year since I've done any paper edits.  I think.  It's weird.  One of my traditional pubs has switched to digital so having the pile of paper on my desk is weird.  I also have edits on Locked in Silence I need to get done.  They always hit in multiples, I swear.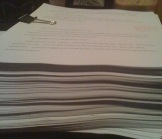 It's been a while since I had time to answer many Q's.  But I'm not required to wear that other hat this week.  So, if anybody has any Qs…fire away…