Although a lot of the national news hasn't mentioned it much -hello, MSN, the first thing I saw when I got online?  Crap about NFL draft prospects and superstar kids. Um, tornadoes-killed 170.  Maybe that should be the headline?
Anyway, yesterday massive storms hit the south. A tornado nearly a mile wide was reported to tear through Birmingham.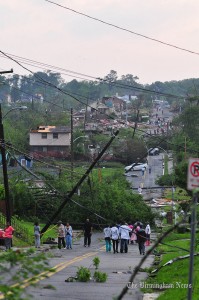 I read somewhere that one entire town was wiped off the map.
As always, in times of tragedy, there are going to be cretins out there who try to profit from it.  Make sure if you're from the area, you only use reliable, vetted services.  If you're donating money, make sure it's a reliable charity-I always check through Charity Navigator.
Because I want to do something to help, I'm going to make you help me do it. For every comment I get up to 100, I'm donating a buck to the United Way of Central Alabama. Comments must be made here at my blog, though, not via FB-just makes it easier to keep up.
Ready…GO!