contest is now closed! winner to be posted later this week!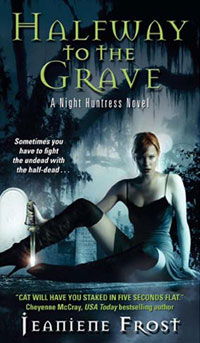 "It's empty.  You should tell me the name anyway, after making me drink all that sewage."
I really love this series.  I read the latest last week.  And since I like making sure others are addicted to the same books I love, I want to give away a book today.  (I'm doing another one next week…next week is Ilona Andrews).
Today, I'm giving away a copy of the first book in this series… Halfway to the Grave, unsigned.  All you have to do to win it is participate in the Friday 56.
About the Friday 56
Grab the book nearest you. Right now
Turn to page 56.
Find the fifth sentence.
Post that sentence (plus one or two others if you like) along with these instructions on your blog or (if you do not have your own blog) in the comments section of this blog.
Post a link along with your post back to this blog.
Don't dig for your favorite book, the coolest, the most intellectual. Use the CLOSEST
Rules for the contest
open across the globe
one entry per household.
do not post to twitter sweeps/sweepstakes sites, etc-if this happens I reserve the right to end the contest (and likely WILL)
odds of winning depend on number of entries
void where prohibited
winner to be posted to blog and you must email me to claim the prize.  you'll have two weeks.  if I don't hear from you, the prize is forfeited.
for the rest of the yadda, yadda yadda…read my disclaimer-FYI, ENTERING my contests means you've READ and agree to my rules.