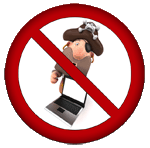 Are you an author who keeps having people steal from you with ioffer?  FYI, there's no denying pirates piss me off.
Ioffer and the pirates there?  More than.
**Please note, this all pertains to ebooks. Not print. Reselling used books is perfectly legal and I've got no problem with it. Now then.
About the mess…
Authors have a few options with this mess.
Ignore it (not an option for me-not only do they violate copyright, they make money from my hardwork and they are stealing.  Nope.  Not ignoring)
Have the publishers handle it.  Yes, this works.  But it takes them a week or more.  Publishers have their entire house to watch for and small legal staffs.  Which means?  Your stuff waits it's turn in line.
You can pay somebody-I actually know somebody who handles these.  You can authorize somebody to do the takedowns.  Don't have an assistant and want to do it that way?  Email me.  I'll give you her name.
You do it.
Options three and four are the fastest.  Option one-basically sticking your head in the sand isn't going to help the problem and until more authors stand up and fight it, the problem isn't going to improve.  Option two works, no denying it. But look at it logically.  The publishers only have so many people in the legal department.  And they've also got other things to do besides piracy and ioffer messes.
Options three and four are the ones that have the most effect and if you're diligent, eventually word gets around.  Especially if you stay on ioffer with the takedowns and remind them that they are only protected by the safe harbor laws of the DMCA if they take action against those who repeat offend.  What does this mean?  If there is a seller who is repeatedly listing your stuff even after you've sent in the takedowns and ioffer isn't doing anything?
Well, I'm no lawyer.  But I would think if they aren't taking action…think about it.  So remind them that you've complained on such and such seller before…and see if you don't see that seller's store disappear within a day or so.  All of the listings. I've watched it happen dozens of times.
Now, I suspect they show back up under another name.  But if they relist your stuff?  Complain again.  Remind Ioffer again.  Sooner or later, the sellers get tired of having their auctions yanked and you don't see your stuff as often.
And if you really want to be a pain…
When you send the takedown?  Also CC…CC, not BCC to <netpiracy@siia.net>, the SIIA deals with piracy issues.  Give them more ammo.
I also make notes on the sellers' pages.  Once, Ioffer closed my account.  I emailed them and told them that if they allowed people to illegally sell my books, then I had a right to point out to potential buyers they were buying stolen property and if they didn't want me getting rather public with it, they might want to reopen the account.  They did.  These little notes on the seller's pages?  Don't get ugly…remember, a lot of readers still don't get how the ebook thing, piracy and all that jazz works.  They may not realize they are buying stolen goods and the ugliness won't benefit you.
I say something like… Be advised, this is copyright infringement and illegal.  See the FBI's warning.  Then I leave a link to this page. http://www.fbi.gov/about-us/investigate/cyber/ipr/anti-piracy
Lessons in being an advanced thorn in the side
Well, you can always report them to the IC3, Internet Crime Complaint Center.  From their site:
The Internet Crime Complaint Center (IC3) is a partnership between theFederal Bureau of Investigation (FBI), the National White Collar Crime Center (NW3C), and the Bureau of Justice Assistance (BJA).
As of 2/11/2012, I started taking screenshots of all people who list auctions in violation of my copyright on ioffer.  After I send the takedown to Ioffer, I send a complaint to the IC3.  Ioffer is also aware I'm doing this-I told them.  Pointblank, I told them in an email- "You can find a way to keep illegal goods from your site."
Ebay keeps illegal crap off their site.  (Not ebooks, or rather, not as good as they should, but it's possible.)  It requires effort on their part, and sure, it will cost them money.  But that's their problem.  Until they take a more active role in policing their site to keep the illegal goods off of it, I'm reporting them to the IC3.
Maybe if enough fed up authors (as well other intellectual property owners) started regularly filing complaints with the IC3, and making ioffer aware… they'd get their act together.
For Beginners…
Not sure how to get your illegally sold ebooks off ioffer?  (FYI, the ebooks sold on ioffer, unless they are in public domain, are most likely illegal, and if you just wrote it?  Not in public domain).
Here's what you do…send a takedown notice to copyright@ioffer.com.  This has to come from either the publisher, the author, or someone the author has designated to act on their behalf (agents, assistants, etc).
What needs to be in the takedown?  From IP Watchdog**, post dated 1/6/09 :
A physical or electronic signature (i.e., /s/NAME) of a person authorized to act on behalf of the owner of the copyright that is allegedly infringed.
Identification of the copyrighted work claimed to have been infringed.
Identification of the material that is claimed to be infringing and information reasonably sufficient to permit the service provider to locate the material.
Information reasonably sufficient to permit the service provider to contact the complaining party, such as an address, telephone number, and, if available, an electronic mail address at which the complaining party may be contacted.
A statement that the complaining party has a good faith belief that use of the material in the manner complained of is not authorized by the copyright owner.
A statement that the information in the notification is accurate, and under penalty of perjury, that the complaining party is authorized to act on behalf of the owner of the copyright that is allegedly infringed.
So, what needs to be there… who you are, what the works are, a link to the works are found, a way to contact you-I provide my PO Box and the phone number of my publishers-not giving those guys my number. And then the last statement is VERY important. I include my name with the words ELECTRONIC SIGNATURE next to it, then my name and contact details.
I send it to ioffer, CC it to netpiracy, then notify the IC3, and I make a screenshot of the auction and save it in a file labeled ioffer. Generally, ioffer has them down within a few hours, a bit longer on the weekends.
Do the numbers on ioffer seem insurmountable? Well, at first, probably. But if you can stay on top of it, word will get around. Especially if you let the sellers know you are reporting them to the IC3… I make sure to mention the connection to the FBI.
If you stay on top of it for a while, those numbers no longer seem so insurmountable. Sellers try to find ways around it, misspelling your name, mis-LISTING the names, etc-they continue to find ways, I continue to look…and when I find them, I report them, not just to ioffer.
In case anybody reading this is a seller? It's not an idle threat on my side. I report. Happily. And with great pleasure. I even forward the confirmation of each successfully submitted complaint to ioffer to let them know about each auction that I've submitted. Sellers might want to consider…if the FBI and other law enforcement agencies that deal with copyright decide to investigate ioffer? Why wouldn't they look to the sellers as well?
heads up… I'm not a lawyer, not a copyright specialist or anything. Just a writer who's tired of dealing with this crap. IMO, ioffer is one of the worst and I've got two years worth of emails/takedowns. It's gotten better over the past few months, finally, but I suspect that's not on because of anything ioffer has done. This is all just my opinion, make of it what you will, but if you are tired of it and want to see a difference, as an author, you're the one with the most power of bringing it about. Ioffer is required by law to remove the infringing works. If you send the proper DMCA, they have to remove the works-if the seller relists, remind ioffer about the safe harbor laws of the DMCA and see what happens. And keep on it…you just may see the difference.
**Re IP Watchdog…he's a very informative and helpful guy. If you use any of his info outside of a DMCA…like a blog…please credit him…thank you!