So. I've rearranged my office. Which means different books are now at hand. Today, the closest at hand is…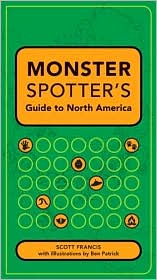 FYI… this is a FUN book. I can't find a website for the author, but it's fun. My kids have totally dog-earred it. We got it right before we went to Alaska and that was the summer my son told me he had been kidnapped by Bigfoot. My daughter thought she saw Bessie, (Lake Erie's version of the Loch Ness Monster). Anyway. It's fun.
On to the Friday 56…which isn't as fun as the book because it's reference thing.
See Honey Island Swamp Monster
But the book.  Is. Fun.
About the Friday 56
Grab the book nearest you. Right now
Turn to page 56.
Find the fifth sentence.
Post that sentence (plus one or two others if you like) along with these instructions on your blog or (if you do not have your own blog) in the comments section of this blog.
Post a link along with your post back to this blog.
Don't dig for your favorite book, the coolest, the most intellectual. Use the CLOSEST.