Okay, FYI, this is an opinion, this is only an opinion and should anybody not like that opinion, you can click away real fast. Okay?  And the screaming cat might be a warning.  This isn't a warm & fuzzy post.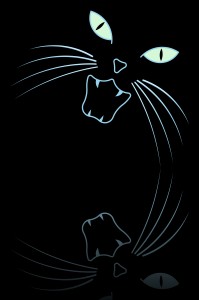 So I'm not in the market for a new epub. Two is good. But if I were looking, and I saw a publisher saw this, this publisher would fall very far from my list.
(Comments from Decadent Publishing, copied from this blog The End is Not the Final Word)

Would you like out of your contract with Decadent Publishing since you don't seem to respect either them or their authors?
Another DP comment, same thread, was:
This blog is not about doing legitimate reviews. This is a platform for ambushing an author for personal reasons. One of the owners of this blog is actually under contract with Decadent Publishing at this very moment. I've got to ask "why" would she ever submit to us if she thinks so little of our authors/company and has made public statement of the fact? Is that something a rational human being would do? For real?
My opinion to answer those questions… well personally, I don't think the author should review the books from DP, a conflict of interest, IMO.  But I also don't think DP should publicly confront a review site.  A REVIEW SITE.  COME ON. DID YOU NOT THINK PEOPLE WOULD SEE IT?
Now Decadent looks like a bully..in my opinion-can't threaten me over having an opinion, and I'm not contracted-nor would I ever me and FYI, if I were, after this, I'd be BEGGING to be let out of the contracts.
More concerning though…this…"Your Privacy is Not Protected at Decadent Publishing." Click the link…read it.  It's…ah…strange.  FYI, Enders people, your enders names are confusing.  Very dramatic, but confusing.  Anyway, the post is twisty.  I don't know what's the real story there…don't know, to be honest, don't entirely care, but if Decadent is sharing personal information of their authors or their readers, then they are the last place I'd be giving my books or my dollars to- a business should have some standards, some ethics.
I don't care what this author or the readers supposedly did or didn't do.  IMO, the only reason to justify sharing private information would be if laws were broken, and if laws were broken, they share it with legal personnel or the cops.  Not with their authors.  IMO, that's so fricking irresponsible, it makes me sick.
Were laws broken?  Do they have proof?  Did they share this info with the proper authories? If not, then I question their standards.  Again, again… my opinion…
If they can't respect the privacy of their authors and their readers…well, it's something to think about.
My my my…
Now… a note to anybody who may choose to comment.
Comment away.  Disagree with me.  I don't care, but two things-my blog, so my rules, which are stated pretty clear in my disclaimer.  If you want your comments to remain on my blog, I'd suggest you keep them civil (this is where my readers hang out and I don't want them having to deal with nasty tones).  If you can't be civil, be warned, your comments get deleted.  I even enjoy doing that. Disagreements don't bother me, although don't expect a lot of commentary from me.  Deleting nasty comments gives me and my admin all sorts of warm and fuzzy feelings, so if you want to make give me warm & fuzzies…You can disagree & be civil, or disagree and be ugly…and be deleted.
You threaten me, I will laugh at you, then I may mock you, and possibly delete you.  Anybody who might try to threaten me over this post isn't very likely to be a threat & likely they know it.  Threats tend to be more an attempt to shut somebody up or intimidate somebody into going silent or removing something.  Not going to happen here, and FYI, all I did was state my opinion, and I copied a few comments and linked back, with attribution.
Another note, to innocent authors for this pub who are likely going to get caught in this?  You've got my sympathies.  Really.