contest is now closed… winner to be posted next week!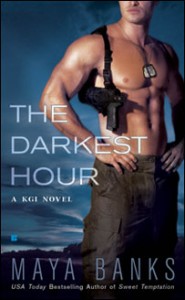 Soooo…last week, I mentioned I'd read No Place to Run by Maya Banks.
For those who haven't read the books?  Want to try the first one?
It's been one year since ex-Navy SEAL Ethan Kelly last saw his wife Rachel alive. Overwhelmed by grief and guilt over his failures as a husband, Ethan shuts himself off from everything and everyone.

His brothers have tried to bring Ethan into the KGI fold, tried to break through the barriers he's built around himself, but Ethan refuses to respond… until he receives anonymous information claiming Rachel is alive.

To save her, Ethan will have to dodge bullets, cross a jungle, and risk falling captive to a deadly drug cartel that threatens his own demise. And even if he succeeds, he'll have to force Rachel to recover memories she can't and doesn't want to relive—the minute by minute terror of her darkest hour—for their love, and their lives, may depend on it.
I'm giving away an unsigned copy of The Darkest Hour…book 1 in the KGI series.  All you have to do to enter is leave a comment and tell me what you're reading.  Give away open across the globe, and reminder…if you enter, as per my disclaimer, that means you've read my disclaimer. O.o  So if you haven't, you might want to.
Standard, abbreviated run down…
don't post to twittersweeps or sweepstakes sites-if this happens, I reserve the right (and likely will) to end the contest without awarding the prize.  This annoys me.  These contests are for readers and visitors, not contest patrols.
it's your responsibility to check back and see if you've won-I don't notify the winner.
One entry per household
Open across the globe
You must enter via my blog, not goodreads, facebook, etc
For the rest…read the disclaimer.