*My line might be different from others, I took it from the early version Carolyn let me read*
Today's Friday 56 is from Doublecross by Carolyn Crane.  Which ROCKS by the way.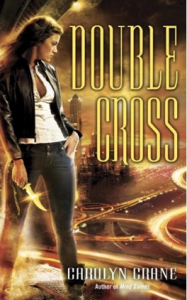 Most enjoyable.
Heh.  Short and sweet.  And so fitting, because most enjoyable describes these books to a T.
About the Friday 56
Grab the book nearest you. Right now
Turn to page 56.
Find the fifth sentence.
Post that sentence (plus one or two others if you like) along with these instructions on your blog or (if you do not have your own blog) in the comments section of this blog.
Post a link along with your post back to this blog.
Don't dig for your favorite book, the coolest, the most intellectual. Use the CLOSEST.
FYI, I'm out of town… any comments or questions will be read/addressed when I get home.