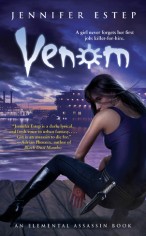 I've drawn the winner for Jennifer's guest blog, with some help from randomizer.org
The winner gets a copy of VENOM~and that winner is Brandi, email starting with un_easy@, who commented,
I love all books…well…yup all books. The books I enjoy the most though are the ones where there is a little bit of everything. Because isn't that how real life goes (I know, I know we're reading fiction, but in my mind the story comes alive like a movie) so I find it the story flow easier to digest…
Favorite series…
Kate Daniels-magic series
Jeaniene Frost-night huntress series
Vickie Pettersson- Zodiac series
Patricia Briggs-mercy series
kim harrison-the hollows series
kelley armstrong-the otherworld series
karen chance-both of her series
and so many more…
Brandi, I need you to email me @ shilohwalker(at)gmail.com.  As per my blog rules, winners have two weeks to claim their prize, otherwise, it's forfeited.