First thing-if you don't already get my newsletter/enter my monthly contest, I finally got things straightened out and you can sign up/enter.  It's through Access Romance and standard prize is a book from me.  You can enter here…
Next up.
The First Book of Grimm releases in two weeks!  Yay! This book has the first two Grimm stories, Candy Houses & No Prince Charming.
There is cool news with this… Barnes & Noble is featuring it on their new release tables-you know the tables up front where the trade paperbacks are?  Well, my Grimm are going to be up there!  To celebrate, I'm giving away a Nook.  Details on how to enter can be found here… upfront disclosure-this is a promotional thing for the print release-previous ebook purchases of the two novellas (Candy Houses and No Prince Charming) do not count.
There is a no purchase option available, but yes, the best odds are through purchasing the book.  If you've already bought the ebooks…well, hey… books make wonderful gifts…  😀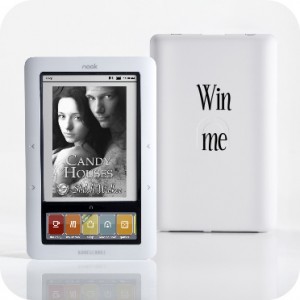 Also, for US residents, those who buy the book in store the first week of release can send me their receipt in exchange for a free gift…(supplies are limited) Details found here.  A note to my readers outside the States, I hope you can understand-I rarely have any geographical restrictions on contests/giveaways, but for reasons of practicality, I am doing so with this one.
Yet more Grimm fun~from 10/4 to 10/11, Borders is giving Crazed Hearts away for free at their ebook store.  I don't believe you need a reader to read their formats (PDF should be one of them). **Okay, something is up with the giveaway because I can't find Crazed Hearts listed.  Once I figure out what's up, I'll update.  Sorry!
Annnndddd… one last thing.  The next Grimm book releases late this month-Tarnished Knight.  If I can ever get caught up, I'll post another excerpt.