Coming up… and it's so damn good.  I wonder if book 3 is done yet…must go bug Carolyn more…
(part of a series… read the first book before this one…but so good) Not due out yet-about 2 weeks, so you have time to buy book 1, read book 1, and get antsy for this one.  See?  I timed it perfectly.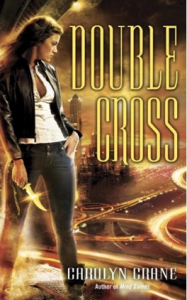 SOME SECRETS COME BACK TO HAUNT.
OTHERS COME TO KILL…
Justine Jones has lived her life as a fearful hypochondriac until she's lured into the web of a mysterious mastermind named Packard. He gifts her with extraordinary mental powers-dooming her to fight Midcity's shadowy war on paranormal crime in order to find the peace she so desperately craves.
But now, serial killers with unheard-of skills are terrorizing the most powerful beings in Midcity, including mastermind Packard – and his oldest friend and worst enemy, Midcity's new mayor, who has the ability to bend matter itself to his will.
As the body count grows, Justine faces a crisis of conscience as she tests the limits of her new powers and faces an impossible choice between two flawed but brilliant men . . . one on a journey of redemption, and the other descending into a pit of moral depravity.