Kindle
So, I promised a bribe for getting me into the tournament.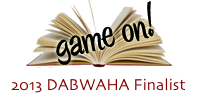 Which is…I'll post that in a minute.
Here's the deal.  If you help me advance, I'll continue to write more on the POV. And if I might even post some of BROKEN BLADE.
If you help me get to at least the next bracket of the DABWAHA (voting opens in a few days, right now you make your choices), I'll do at least one of the above, maybe both…and if you're so inclined and if you help me advance, I might even write a hot and dirty Kit & Damon scene (maybe an in-between books 1 & 2 type of story.
So… you all going to help me out?  I hope so because I have tough competition.  It's Meljean Brook.  But… nah, you all don't need to vote for her!  VOTE FOR ME! VOTE FOR BLADE SONG!  VOTE FOR KIT!  SHE NEEDS IT!
Damon POV…as promised…
And… if you haven't read BLADE SONG… I marked the price down at Smashwords & ARe to $2.00.  I can't do an auto markdown on the other platforms because I don't handle the distribution and those pricing changes take longer when you use a distributor, but it's only $2.99 at BN, Amazon, etc.
For Smashwords, you need a coupon. It's AV76L.
The book is DRM free with no territory restrictions.

Amazon | BN | iBookstore | ARe/OmniLit | Smashwords | Kobo | Indie Ebooks