Part 1
Introducing Shiloh Walker's erotic Thirty Nights with a Dirty Boy e-serial!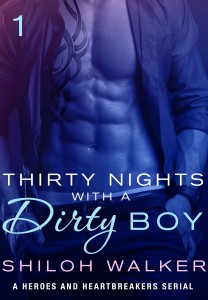 Money Can't Buy Love…
Ella Cruise doesn't like to be touched. A survivor of childhood abuse, she craves security in all aspects of her life: fulfilling work at the nonprofit she runs, more than enough money to live comfortably, and a good friend and confidant. But none of it can ease her longing for intimacy, even if just for a night. When she meets a gorgeous bartender who moonlights as a male prostitute, a bold idea begins to take shape…
But It Can Buy a Night of Passion–or Thirty…
Sean Lachlan is stunned by the cool beauty's offer: 30 nights of no-strings sex in exchange for all the money he'd need to start over. The deal seems too good to be true, especially since his desire for her is no act, but Sean finds he can't turn her down. Before they know it, Sean and Ella realize they're in deep, their defenses crumbling. Will thirty nights with a dirty boy be enough after all, or will love lead Ella and Sean back to the negotiating table?
A 20,000-word HeroesandHeartbreakers.com original novella
Part 2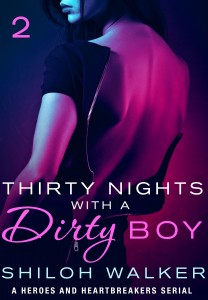 Shiloh Walker invites you deeper into the sensual e-serial Thirty Nights with a Dirty Boy, where some rules are made to be broken…
Haunted by her past, Ella Cruise has no desire for a long-term relationship, but thanks to a contract with wickedly handsome bartender and male prostitute Sean Lachlan, she now has thirty nights to live out every fantasy she's ever had–and more–under the tutelage of a very dirty boy. There's just one problem: Love was never part of the deal…
Read all three parts in Shiloh Walker's white-hot Thirty Nights with a Dirty Boy e-serial!

iBooks | Amazon | BN | Kobo
A 20,000-word HeroesandHeartbreakers.com original novella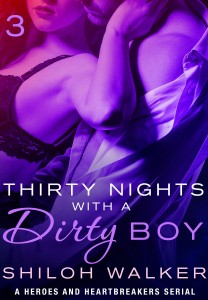 Part 3 by Shiloh Walker
The sensational conclusion to Shiloh Walker's erotic serial Thirty Nights with a Dirty Boy…
Ella Cruise knows love isn't for her. Or she did, before her arrangement with sinfully sexy bartender and male prostitute, Sean Lachlan, for thirty nights of fantastic, no-strings sex. But the more she learns about him, the deeper she falls, until she starts to wonder: Can thirty nights be enough when what she really wants is forever?
Read all three parts in the Thirty Nights with a Dirty Boy e-serial!
A 25,000-word HeroesandHeartbreakers.com original novella
Excerpt
"You realize this involves me touching you, don't you?"
I jerked my head in a nod.
"Okay then." Pale gray eyes studied my face.
He saw too much. I suspected he could see the things I didn't want him to see, but it wasn't like some of those secrets were hard to figure out. I flinch when I'm touched, I flinch when people get too close. And I'm paying a man to have sex with me.
"Why?"
I blanched at his question. Was he a mindreader too?
"What?"
He slid his hand up, the heel barely grazing the outer curve of my breast, but it was a touch I'd never experienced before so I felt it—felt it in ways I couldn't describe. He noticed—I saw the way his pupils flared—but he made no sign that he'd noticed. He just kept on his mission and that was to curve his hand over the back of my neck. He leaned in and this time, when he whispered into my ear, it wasn't such a surprise. He'd been this close before and I'd handled it.
"Why pay for sex, Ella? You're a pretty woman. If I had seen you someplace other than where I work, I might have asked you out. You can find a man who'd be happy to take you to his bed and you wouldn't have to pay him for it."
His voice was a soft, seductive caress. It would have been easy to just fall into it and not think about his words.
But I suspected he'd have an answer before he consented.
"Does it matter?" I asked, my voice shaking. "Why do you care?"
"Women come to me for a number of reasons, sweet lady. I could just take their money and give them what they ask for…but I want them to know what they are getting in return. I promise sex, nothing more. Nothing less. Plenty of them think they'll get something more—and for some of them, that is fine. Some just want the thrill…" He turned his head and I gasped when he bit my earlobe.
A hot, delicious bolt of pleasure ripped through me. I hadn't felt the likes of it…ever.
"And if you were just out for a thrill, Ella, I'd turn you around to face me and be inside you before you could blink. I'd make you come, hard and fast. But I wouldn't. Then I'd take you someplace more private and we'd go again. Once you came again, then I would."
I had to squeeze my knees together now, because I was aching inside. Aching deep down, my clitoris pulsing. All because of the words he spoke.
"But you don't want a thrill." He smoothed his hand down the front of my torso, left it there. Whether it was to tease or to warn me, I don't know. "You're terrified. You want me, but at the same time, part of you wants to withdraw and run. So it isn't thrills you chase, Ella."
A H&H original>>