A Special Collection
Talking With The Dead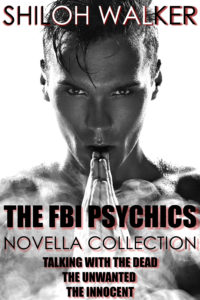 An FBI Psychics Prequel
Michael O'Rourke's days are filled with ghosts and guilt. A psychic who can connect lost souls, his life is about finding justice for the dead. Enter Sheriff Daisy Crandall-she sees him, she wants him, but he's in the middle of a crime scene and she can't trust him.
The Unwanted
For Caleb Durand, leaving Destin was an act of self-preservation. Every time she flung herself headlong into dangerous situations, every time he nursed her through soul-crushing visions, he'd died a little more inside. Now they are forced to work together one last time. Tragedy has changed them both, but Caleb knows if he lowers his shields for an instant, he won't have an icicle's chance in hell of resisting the temptation to lose himself in her wild power. But to catch the rapist, it's exactly what he'll have to do.
The Innocent
There's only one reason Jay Roberts would set foot in a middle-of-nowhere town like Hell, Georgia. She's got a bone to pick with her sort-of boyfriend. They only met online, but things got hot and heavy before their cyber link went silent. She's here to get in his face for an explanation. But no touching. Her psychic abilities make physical contact…complicated.
Yet something about this relationship made her think things would be different. She's not in Hell twenty minutes before bad vibes have her skin crawling.
Corruption has stained the very fabric of Linc Dawson's town, and now it's stolen something very dear to him. The last thing he has time for is nursing Jay's broken heart.
But Jay isn't going anywhere. Not only because she's not giving up on him, because she's got access to the kind of backup nobody wants on their bad side. And Linc discovers the woman who's afraid to touch him could actually be his best chance. At salvation, at hope, at life. Maybe even love…
This books have been previously published. No new material has been added.
Available via direct download only via Payloadz