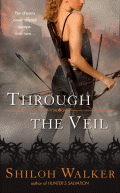 Through the Veil
Found wandering in a field as a child, Lee Ross was given a name by the state and placed in a foster home–without anyone realizing she wasn't entirely human.
All her life, she's tried to dismiss the odd dreams that have plagued her, dreams of monsters creeping through the night and a man, fighting demons by her side. But the bruises she wakes up with are all too real to ignore
Then the man from dreams appears in the flesh. His name is Kalen and he insists that her destiny lies in his world, the world of her dreams.
To save their people, he must convince Lee to give everything she knows, follow her heart and cross into the Under Realm, even though once she does, she'll never be able to return.
__________________________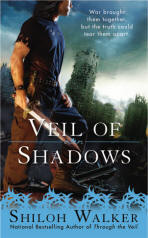 Veil of Shadows
the thrilling follow-up to Through the Veil, featuring a beautiful captain who's lost her magic—and the stranger who will either be her great love, or her greatest enemy…
With demons running amok throughout the forests and mountains, a rebel army has been established to win back the land—and a new soldier has appeared out of nowhere to join them.
His name is Xan, and his past is a mystery to everyone, including Laisyn Caar—a beautiful captain in the rebel army—who is shocked by the powerful, all-consuming desire she feels in his presence.
But now isn't the time for distraction. The future of her land—and of her people—is in her hands. On top of that, she's been stripped of her magic—and without it she feels like part of her soul has been stolen away.
But when she discovers the dark secrets of Xan's agenda, it will be up to her to determine whether the man she's starting to love is a friend of her people—or a dreaded enemy…
Unfortunately, due to low sales, the Veil series has been cancelled.  I appreciate the support from those who enjoyed it~ Shiloh, 2012