So you think you know fairy tales? Guess again.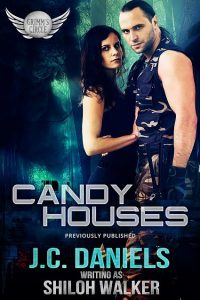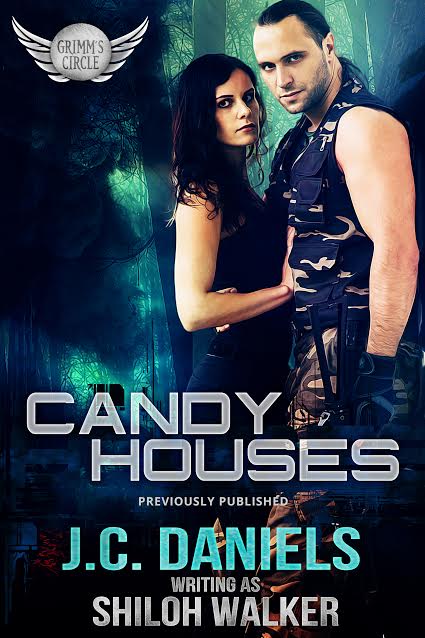 Candy Houses 
Grimm's Circle, Book 1
It's been hundreds of years since Greta's so-called story came to an end and it didn't end with a happily ever after then. Why should she expect it to be any different now?
She's a Grimm—a special kind of guardian angel and official ass-kicker in the paranormal world. Between trying to stay alive, training new Grimm and dealing with demons, romance is hard to come by. Then there's the fact that there's only been one man ever who really made her heart race.
And he's been out of her life for a long, long time…
But now he's back and just in time.
Greta needs Rip's help.
There's an unexpected threat to their world, a betrayal none of them saw coming.
Working together is the last thing they want, but it just might be their only chance.
A fairy tale best suited for grown-ups…don't say you weren't warned.
Excerpt
Rip was standing in the doorway with one shoulder propped against the door jam. He had a look in his eyes that sent my skin to tingling all over. I mean all over—I felt it in my lips, my toes and every square inch in between.
"Hey," I said. My voice cracked.
He continued to stare at me.
It was very, very unnerving the way he watched me.
"Ahh…is everything okay?"
He didn't answer. Nope, what he did was push off the door jam and come over to the bed. He knelt down by the bed, resting one hand on top of the blankets. He had such damn nice hands…the hands of a poet, a warrior…a lover. One of those lovely hands was only an inch away from my thigh too. I thought I could even feel the heat of it, through the blankets.
"You were dreaming," Rip said, his voice low and rough.
Oh, shit. Swallowing, I dredged up an innocent smile. "Was I?"
"Yes." His eyes, that dark, melted-chocolate gaze, locked on mine and I felt frozen in place. Unable to move as he laid a hand on my cheek and stroked my lower lip with his thumb. "Do you remember it?"
Oh, man, did I remember. But I couldn't really tell him that, now could I? Self-preservation is a lovely thing, and I looked him dead in the eye and lied. "Nope."
Self-preservation is a lovely thing, yeah, but it doesn't make me a better liar.
"You don't remember?" He leaned in and nuzzled my neck, his breath teasing across my flesh like a caress. "Maybe I could jog your memory."
The hand on my cheek stroked down, over my neck, across my collarbone, down, down. The tips of his fingers brushed against the curve of my breast and I realized I'd dropped the blankets and was sitting there as naked as the day I was born.
"I'm good. No need to jog the memory."
"You whispered my name," he murmured, nipping my earlobe. "Then you moaned. You sounded exactly like you did the first time I made you come."
iBooks | Amazon | Kobo | BN | Smashwords