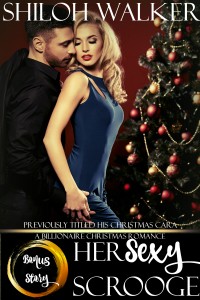 previously available as His Christmas Cara
Like the Ebenezer of old, Eben Marley excels at making money. Unlike the Ebenezer of old, mega-rich Eben Marley also excels with the ladies…as long as love isn't in the cards. Love them and leave them, that's how he plays it. Or maybe one should say…get her naked, make her moan, then leave. No need for love, emotion or commitment. Until Cara. One night with her changed everything. So Eben did what any committed bachelor would do—he had her transferred to another department and made sure their paths never crossed again.
Three years later, on Christmas Eve, he bumps into her and all the memories reawaken. Her memory still haunts him, but Eben might not have a chance to figure out if they could have anything more than sex. Cara's memory isn't the only thing haunting him. Eben has more than just a name in common with the old guy from the Christmas story. Three spirits are looking for him and he's only got so much time to make things right…including rebuilding those bridges he burned with Cara, the one woman he's never been able to forget.
♦
Earlier, when he had kissed her, she had been the only thing in his world.
Something told her that was very, very unusual for him. And it was that quiet little urging voice that she was listening to right now. She planned to blame that little voice if she got tossed out on her butt.
The long, paved road wove around Eben's estate. It had been four years since she'd been here, at a business dinner meeting, working with her new boss, meeting Eben for the first time.
And it was as amazing now as it was then, the windows, and there seemed to be a thousand of them, all sparkling under the light of the full moon. The moon hung low and fat in the air, casting its silvery light all over the sumptuous estate. There were more lights blazing, even though it was later now than it had been then.
So he was awake, she figured, nibbling nervously on her lower lip as she slowly walked up the ornate walkway. Egads…even the sidewalks are fancy, she thought as she glanced down. She'd been too much in awe of the house to notice anything else when she had come here that one and only time.
Pressing a finger to the doorbell, she took a deep breath, trying to compose herself. Hell, maybe the butler would turn her away—she never doubted there'd be a butler there. Even if it was past eleven o'clock on Christmas Eve.
So when Eben himself opened the door, bare-chested, his pale blond hair tousled, she was at a loss for words.
Except for… Damn, he's hot…
Unconsciously, her tongue slid out to wet her lips as her eyes drifted down the hard, sculpted wall of his chest.
Finally, she tore her eyes away from those six-pack abs and lifted her gaze to find him watching her with an arched brow, a bemused, questioning smile on his face. Her eyes rested briefly on that mouth, one corner canted up, the hint of a dimple in his cheek.
"Merry Christmas," she said finally, keeping her hands fisted in the pockets of the long, rich velvet cloak she'd pulled on. One of her few indulgences, the sumptuous thing was made of real silk velvet, with that soft sheen only the best of velvets had. It lay against her naked body, the wind snaking in under the hem to nip at her bare legs.
He grinned a little wider as he said, "You've said that once already, today, haven't you?"
She shrugged and the edges of the cloak shifted just enough—she watched as his eyes cut to the front of the cloak for the quickest of seconds, hot and intent. When he looked back into her eyes, it was with a bland gaze. But she'd seen the flames.
"Maybe, but I didn't give you a present," she said huskily.
He frowned, brows dropping low over his eyes. "You don't need to give—"
Interrupting, she asked, "Don't you want to know what it is?" And with a naughty little smile, she reached up and flipped open the heavy pewter clasp, shrugging her shoulders so that the velvet fell away. She caught the heavy length in her hand and just stood there, waiting, as he stared at her scantily covered body with hot, hungry eyes. The red push-up bra gleamed against the pale ivory of her skin, the temporary tattoo she'd applied the day before rested right above the line of the skirted garter belt she wore.
Skinny little garters held up the opaque black stockings, and she wore the high-heeled, red fuck-me shoes she had bought on a whim a few weeks earlier.
His voice shook slightly as he rasped, "I don't think I've been good enough for that kind of present." Then he grimaced. "Unless you just plan on letting me look before you walk away."
The cold rippled down her skin and she shivered, but kept her arms hanging loose at her sides. With a slight smile, she said, "I wasn't planning on doing that."