Release Date: January 27th 2017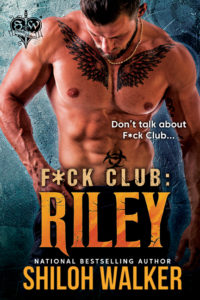 The first rule of F*ck Club…we don't talk about it. We just do the job and get paid.
And Riley Steele did his job very well.
He'll be the first to admit that his current life isn't the one he'd foreseen.
It's not even one he wants, but after his parents died and he was left to care for two siblings and a mountain of debt, he was willing to do almost anything.
Now, after almost ten years of being paid to pleasure, he's almost numb to it…and to women.
That all changes with one phone call.
Brianna Sharpe, the girl he'd loved as a boy, is leaving an abusive lover and
needs someplace to hide.
Opening his home to Bree is easy. Protecting his heart is a different story.
She'd completely shattered it once already.
But Bree has changed and Riley wants to think there might be a chance.
Only…what will she do when she discovers his secrets?
Also available on Kindle Unlimted
Amazon | Kobo | B&N |  iBooks | Smashwords
---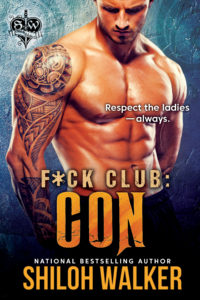 F*ck Club: Con
Book 2
Rule #2…Respect the ladies.
Conner Steele has nothing but respect for ladies. He absolutely adores them and takes more than a little bit of pride in his job—or rather, his former job.
After a run-in with a cop, former male escort Con, along with his brother Riley and best friend Shame, decided it might just be best to hang up their…hats and retire from the business of being paid to pleasure.
After all, they have a profitable business going with their new pub. No reason to ruin a good thing and Con is more than happy to keep pleasing the ladies—just…no longer as a job. Finding a date or company for the night has never been an issue for him, either. He's been told more than once that he can charm a tiger out of its stripes. But lately a new hire at the bar is turning the tables on him—she is the one charming him, twisting him up into knots and getting him so worked up, he can barely see straight.
In his rather expert opinion, Shawntelle Callahan is nothing less than a queen.
And she's a queen on a mission, too. Even as tangled up as he is over her, he can see that. First she tries to coax him out of retirement for one last engagement. When that doesn't work, she sets out to drive him crazy. After finally admitting that she's a writer who's looking to do a story on male escorts, Con realizes it will be best to just stay away from Shawntelle. Sure, she says she's just looking for some hands-on information but he knows there's more to it than that. There are secrets in her eyes, barely hidden lies and doubt.
Amazon | BN | Kobo | iBooks | Smashwords
F*CK CLUB: SHAME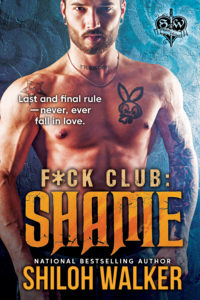 Max "Shame"' Schaeffer knows only one way—the hard way.  He lives hard, drinks hard, fights hard…and if comes to it, he figures he'll die hard, too. The only soft thing in his life is Charli Steele, the younger sister of his two best friends.  He knows she thinks she's in love with him, but with his tarnished and messed-up past, he doesn't see anything in him worthy of love.
Dr. Charli Steele knows more about Shame than he realizes, and she has loved him since they were kids—scars and all.  He loves her, too. She is sure he does. But Shame will never give in to it. Until one brief, stolen night leads to another…and another. Then Shame decides to throw it all away. Heartbroken, she retreats, intent on trying to heal from this latest rejection.  But a phone call in the middle of the night changes everything.
Shame is hurt, and he needs her.
It turns out he needs her a lot more than he realizes.  But will he let her in…before it's too late?
Amazon | BN | iBooks | Kobo | Smashwords