Previously Published in one of the Mammoth Book collections.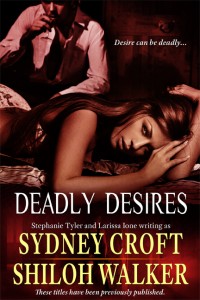 Worlds collide as three bestselling authors deliver two tales of danger, suspense, and steamy encounters.

Don't Walk Away
by Shiloh Walker
Ten years ago, former Army Ranger Ethan Raintree made one hell of choice…keep on lying, or tell the woman he loved the truth. He decided to tell the truth, and she threw him out of her life. He never stopped loving her, not stopped wanting her. Celeste Harper finally had everything she wanted—or so she thought. She'd escaped her past. She'd escaped her demons. But she couldn't escape herself…or the man she'd left behind all those years ago. Looking into his eyes ten years later, she realizes it's her turn to make a choice—let go of that pain and take him back. Or walk away…and face a future without him.
Code Word: Storm
by Sydney Croft
The extremely secret Agency for Covert Rare Operatives is the only thing that stands between the human race and complete chaos. Now, two agents with special abilities, Annika Svenson and Creed McCabe, are sent to stop a man who has harnessed the power of the supernatural world. But Creed and Annika have a history that puts them at odds — and in closer, hotter contact than they'd like. In this ACRO story, which falls in the series timeline between Riding the Storm and Unleashing the Storm, Annika and Creed grow closer, despite their resistance. And with their lives are on the line, they find they must not only work together, but be together, or risk a terrifying fate that could consume them both…
These two short stories contain hot guys, determined women and some sexiness. Please note…they have been previously published, but we did add some new material.
Will he come?
She licked her lips and rolled onto her side, staring toward the door. She hadn't been prepared for this. The plain T-shirt she wore was nothing like the pretty little lacy things she'd had when they'd first gotten together.
She had nothing better, either. Although she wasn't completely destitute, the money she had from her mother wasn't exactly enough to let her go shopping at Saks. Or even Victoria's Secret.
Cotton had replaced silk and lace. She made do with basic and was fine with it for the most part. But just then, she wished she had better. Because she knew she wasn't alone any more.
One second it was just her in the room. And then he was there. There was no sound. If she hadn't been staring at the open curtains so intently, she wouldn't even have seen the darker shadow before it was lost to the rest of the darkness.
She eased up in the bed and waited.
The only sound was her erratic breathing, but she knew he was in there. She could feel him—a ripple of electricity dancing through the air, his gaze an unseen caress along her bare skin.
Celeste held her breath and waited for him to speak, but the silence stretched on. Her heart raced within her chest and she squeezed her eyes closed, tried to figure out what in the hell she was doing, why she'd opened the door, why she'd left the curtains parted, why she was lying here like she was waiting for him.
It came to her then. She was waiting for him. She had been waiting…ever since she'd been foolish enough to push him away.
She needed him. He needed her.
And it was all so very clear, clear as daylight. Clear as the longing she'd seen in his eyes. The same longing she'd felt echoed in her own. Longing…for him.
She was waiting. From the time he'd walked away, even as part of her wanted to hate him, she had been waiting for him to come back.
She'd needed him to walk away at the time—hell, she'd pushed him away. He had to go before she did something, said something, she could never take back. She'd needed the time to come to grips with who she was—who her father had been. After he'd died, just a few short weeks later, she'd needed the time to grieve
She'd needed the time to understand.
To find herself away from her father's overwhelming influence.
Now, a decade later, she could finally admit something else.
She needed Ethan. She'd needed him almost from day one. She could survive without him, but she didn't want to just survive.
Amazon | BN | Smashwords | Kobo | iBooks