Sometime this week, I plan on sharing the rough draft of HAUNTED BLADE on my Patreon page, with a full cover reveal coming once I have the final cover in the next few weeks.  Feedback came in on Damon's short story and the patrons loved it.
At the end of the month, I'll be reissuing PLAYING FOR KEEPS, one of my old Samhain titles.
This is one a hot mess of raw sex, raw emotion and childhood friends who become end up as partners as adults, then lovers.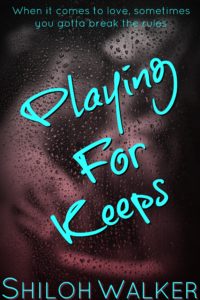 Excerpt
If he kept looking at her, he was going to do something stupid.
Of course, when it came to Dana, he'd been doing stupid shit for half of his life, it seemed.
Need and love could make a man do some seriously strangely things. Like move back into a home he hated, just so he could be near when she visited her parents on break. Things like taking her up on the sassy challenge he'd seen in her eyes one hot, stormy night. Things like sharing her with an overly cocky, egotistical bastard who didn't have the sense to appreciate Dana for the woman she was.
It had been storming that first night when he'd gone to check on Dana. Her electricity had gone out during the storm and he hadn't realized she had company. He ended up walking around the house when she hadn't answered the door and had found her on the back porch, slightly tipsy, wearing nothing but a T-shirt made transparent by the rain and a wide, wicked smile as she smiled up at Mason Caldwell's face.
She hadn't noticed him right away.
If Mason hadn't said anything, Jake could have walked away, suffering nothing more than heartache and jealousy. Well, that and the need to pummel the man's face until that cocky grin was nothing more than a memory.
But Mason had seen him, dipped his head to whisper in Dana's ear. Dana had looked at him and that was all it had taken. He'd been lost to her…but then he'd been lost to her pretty much from the beginning.  read more
And I'm going to try to get either FOR THE LOVE OF JAZZ or NO LONGER MINE out to readers here in the next week or so.