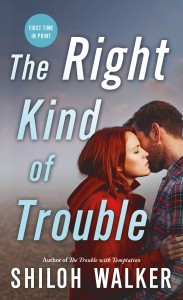 The Right Kind of Trouble – out tomorrow
Gideon Marshall had his hands full of dirty plates and his mind full of dirty words.
He moved into the kitchen of the big, sprawling home known as McKay's Ferry and Moira McKay, the woman he loved more than his own life, cut a wide circle around him so she wouldn't have to look at him.
"Why don't you go out there and celebrate with them?" he asked, keeping his voice devoid of emotion.  "A double wedding, I'm sure they could use your organized self to talk details."
Not even an hour ago, Neve McKay, the youngest of the family, had gotten engaged. Less than sixty seconds after she'd said yes, her brother Brannon had proposed to his girlfriend Hannah.  He'd been planning his proposal—Neve's fiancé hadn't known and had popped the question.
There was plenty to celebrate.
Moira just shrugged.  "This is a happy time for them. I'm just as good in here as I am out there. Nobody wants to talk plans tonight."
"You could—"
The plates in her hand smacked down sharply on the edge of the counter, hitting with enough force he was surprised none of them broke.  Moira was still staring at the plates, her jaw tight.  "I could go out there and be a fifth wheel. No thanks."
Ella Sue, a genteel sort of tyrant, came bustling in and she arched a brow at him before looking at Moira's stiff back.  "I'm in the mood for champagne," she announced, taking up an empty space at the counter.
While she tore the foil, Gideon turned back the sink and rinsed a few dishes off.  "I used to wonder who did all of this," Gideon said.  He was talking just to talk and he knew it.  He didn't care for the sound of his own voice, but it was better than that terse silence.  "You've got all the money in the world. You could hire people to do this stuff. Then you could hire people to hire people to do it for the people…"
Moira let out a soft, strained sigh.
He looked over at her.
Their gazes locked and held for a moment and she broke it, shifting her attention back to the pots she was putting up.  "Mom and Dad wanted to make sure we understood the value of hard work.  It's one of the things that have kept this family honest and successful all these years—or so they say," she said.
"I heard them tell you that, more than once."  He blew out a breath, mind turning back to the man who used to watch him every time Gideon would escort Moira out the door for a date. "Sometimes I still expect to hear him, you know. Your dad, that voice of his. Big and powerful, echoed all through the place."
"I know."  She glanced over at him, smiled sadly.
A few moments later they were all done.
Ella Sue pushed a glass of champagne at each of them and then disappeared—again.
"She seems more interested in flitting in and out than anything," he said.  He was under no illusions as to why, either.
"I heard you were out with Maris the other night."
Moira's voice—bright and almost too cheerful—cut through his heart like a knife.
He took a slow, deliberate sip of the champagne, the bubbles oddly flat on his tongue. It had come from the McKay cellars and chances were that the stuff cost a good grand a bottle.  But it was like water to him.  He still took another easy sip before he looked over at her.
He wasn't surprise Moira had heard he'd been out with Maris Cordell, one of the deputies with the county sheriff's department.  What he was surprised about was the fact that she seemed to give a damn.
She tossed her champagne back like it was moonshine and she was dying for the buzz.
"We had dinner."  He shrugged casually and thought to himself he wouldn't have made a bad actor.
Moira, however, never would have made it.  She gave him a sharp-edged look and said, "Isn't that just lovely.  I bet you two have a lot to talk about."
Gideon ran his tongue over his teeth, debated.  Then he shrugged and tossed back the rest of the bubbly wine.  He rinsed out the glass.  "I'd better head out.  I've got case files to last me into the next decade, so—"
"Maybe the deputy can give you hand."
"For fuck's sake!" He spun around and glared at her.
She gave him an innocent smile as she polished off her champagne and put the flute down.
Striding back to her, he caught her arms.  "What do you want, Moira?  It's sure as hell not me.  I spent almost twenty years begging for you to come back to me, but you…"
Tears gleamed in her eyes as she stared up at him.
A fist grabbed him by the throat, by the heart.  "You won't," he said bleakly.  As the tears broke free and rolled down her cheeks, he brushed them away.  "You won't.  You're the only woman I've ever loved.  Probably the only woman I'm ever going to love.  But I'm tired of standing on the sidelines, of reaching out for you only to have you push me away.  I'm tired, Moira.  I'm tired of being alone and being lonely.  You don't want me. I get it.  But somebody else does."
"Then go to her," Moira said woodenly.  She twisted out of his arms and pulled back.  "I kept telling you it wasn't going to happen, that you needed to move on, Gideon."
She continued to stare at him with bruised eyes.
"Then why are you looking at me like I've broken your heart?"
Amazon | BN | Book Depository | iBooks | Indiebound