So… who has that song in their head now? Me, too! You're welcome! Now I have to go look up the song…I haven't listened to the Bangles in years.
😉
Yesterday was my 18th wedding anniversary.
The guy bought me this… he picked it up at Gifts Inn Boonsboro while we were in town for the signing.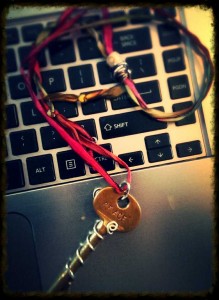 I saw it and was like WANT WANT WANT…of course, he wouldn't just buy it then, even thought I told him I knew he was looking for an anniversary gift for me.
He went and got it when I was otherwise engaged.
I did get it yesterday, though, on our anniversary, along with roses. 🙂
We went to church and I spent about half the morning dealing with an asthma attack-I think somebody had on some sort of weird perfume.  It wasn't strong, per se, but something about it seemed to set me off and I don't even know what.  FYI, asthma suck-eth muchly.  We took the kids out to lunch then spent half the day grocery & school supply shopping.  Awesome celebration, right? Although the trip to Boonsboro, driving through the mountains was really our anniversary type of thing.
We did go out for a movie..saw Hercules which I have to admit, I liked a lot.  It had a different twist to it, but I still liked.
We had more than a few people say something like…eighteen years…wow, that's a record anymore, which makes me sad.  I know people who've been together 40+ years and I want to be looking at my guy on our 40th.   I posted on my FB page that one of the best decisions I ever made was when I said I do eighteen years ago and I completely mean that.
Today starts the crazy for getting ready for back to school.  Open house, haircuts, blah blah blah.  It's been a short summer, but I'm kinda ready for them to get back to school.  I need my routine back.
~*~
Louisville folks… I'm talking books and publishing and suspense and what-not at the Hurstbourne Lane Barnes & Noble on August 9th. Please come talk to me so I'm not lonely.  I'm talking for the Louisville chapter of Sisters In Crime (SINC) and it's free and open to the public.
Louisville SINC
B&N on Hurstbourne
August 9
1pm
~*~
Just one week until YOU OWN ME… Decker is a hot and dirty mess.  Lizzie was a little different to write, a little less sure of herself but it's fun to write characters outside your normal.
here…snippet!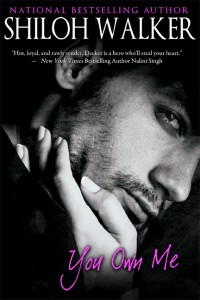 But staring into Decker's eyes, she saw something she hadn't seen there in…well, ever. She didn't think she'd ever seen him vulnerable. Reluctant, nervous, scared, determined, arrogant, angry…and now, hot, hungry and ferocious.
But had she ever glimpsed that vulnerability in his eyes.
She didn't think she had.
Hesitantly, she reached up and rested a hand on his chest. "Well, my brain is still spinning over…this."
He cocked a brow at her lame explanation. Then he closed his fingers around her wrist. "It's okay, sugar," he murmured. He pressed a kiss to her palm and then backed away. "If you want to forget you let me fuck you on that desk, you go ahead."
He turned away.
She leaped off and caught his arm as he went to fasten his belt.
He tensed, but didn't turn.
So she went around him.
"I said my brain was spinning," she said. She wished, and not for the first time, she had his confidence. His strength. Even a tenth of it. But she didn't.
But she had to find the guts to say this.
"And it is." Instead of looking up into his eyes, she focused on his hands. The tail of the Chinese dragon curled up around his right wrist before ending over the back of his hand and she reached out, trailing the tips of her fingers over the scales, almost delicately done. "But I can tell you, I'm not ever going to look at my desk without thinking about…this. I can't believe we did that."
She covered his other hand with hers and tugged his hands from his belt buckle, moving in closer. She pressed a kiss to his chest, to the flicking tail of the tiger, along the lean, powerful body there. "And yeah…I'm kinda embarrassed thinking that somebody out there heard. But that doesn't mean I regret it, or want to forget."
Decker caught her upper arms in his hands.
Have you pre-ordered?
You can… 🙂