It's official.  I need a category called 'miscellany' and I'm making it now.
There's a blog tour going on for Lacey's Game… you can find links here.
Lacey's Game is a fast, dirty–and I do mean dirty novella….Lacey.  If you like menage type books, here ya go.
Snippet!
The first time he'd seen Lacey, Brogan had all sorts of fucked-up images in his head.  He'd wanted to see her stripped naked and spread open in front of him.  He'd wanted to see her bent down before him, wearing one of those half corsets she liked that pushed up her breasts up–that and a bra.  Maybe a short skirt and the knee boots she loved so much.  Then he wanted her on her knees.
And he'd had her…all of those ways.
But there were other ways he'd wanted her…darker journeys that he'd wanted to take and the laughter and light he saw in Lacey wasn't made for those dark journeys.  He knew what the hell that came when a woman went down a road she wasn't mean for–even if she wanted some of it, even if he could bring the pleasure, and he knew he could.
Lacey wasn't meant for some of the darker roads…
That was what he told himself.
And yet he was seeing her there, glaring at the camera, wearing something that made him want to turn her over his knee and spank her for letting another man see her, something that made him want to push her against a wall and fuck her raw.
His hands were sweating, he realized. Sweating, trembling.
Clenching his jaw, he threw the phone down.  He was leaving.  She'd made herself clear and he couldn't do what she needed, she couldn't be what he needed, in the end.  It was better–
Snarling, he grabbed the phone when it beeped again a few minutes later.
I'll have fun with her if you can't be bothered.
"Have fun with her?" Brogan stared at the phone.  He didn't recognize the number.  But he didn't need to know who it was.
That friend of hers?  Lacey was in for a rude awakening if she thought Lou was really a friend.
"You're helping," he told himself.
And he wanted to believe that.
But he lied.
Check out the bloggers hosting the blog tour and win some book $$
Read more… or maybe order?  EC | Amazon | Kobo | BN
It's on sale now, but the sale price won't last.
So…   I've fallen in love with the tv series SUPERNATURAL.  I'm like almost ten years behind, but I made this sacrifice for you people.  I knew if I started watching it early, it would die an untimely death and be cancelled.  😉  You're welcome.  So far, I think I like Sam more, but Dean is an excellent smart-ass.  Truly a master of the art.
And now…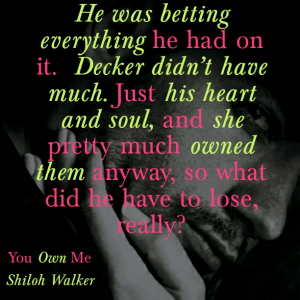 YOU OWN ME is up for pre-order at the three major outlets, BN, iBooks and Amazon…it's due out August 4, so if you want it on your reader at midnight that night, pre-order away!
read more