So… Larissa, Stephanie and I sorta went and snuck this one out.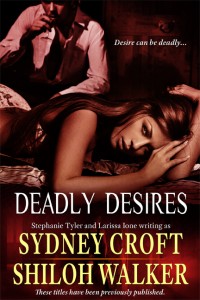 These titles were previously released in one of the Mammoth collections.
They have been expanded and revised for the digital release.
Worlds collide as three bestselling authors deliver two tales of danger, suspense, and steamy encounters.

Don't Walk Away
by Shiloh Walker
Ten years ago, former Army Ranger Ethan Raintree made one hell of choice…keep on lying, or tell the woman he loved the truth. He decided to tell the truth, and she threw him out of her life. He never stopped loving her, not stopped wanting her. Celeste Harper finally had everything she wanted—or so she thought. She'd escaped her past. She'd escaped her demons. But she couldn't escape herself…or the man she'd left behind all those years ago. Looking into his eyes ten years later, she realizes it's her turn to make a choice—let go of that pain and take him back. Or walk away…and face a future without him.
Code Word: Storm
by Sydney Croft
The extremely secret Agency for Covert Rare Operatives is the only thing that stands between the human race and complete chaos. Now, two agents with special abilities, Annika Svenson and Creed McCabe, are sent to stop a man who has harnessed the power of the supernatural world. But Creed and Annika have a history that puts them at odds — and in closer, hotter contact than they'd like. In this ACRO story, which falls in the series timeline between Riding the Storm and Unleashing the Storm, Annika and Creed grow closer, despite their resistance. And with their lives are on the line, they find they must not only work together, but be together, or risk a terrifying fate that could consume them both…
Amazon
 | BN  | ARe | Smashwords
These two short stories contain hot guys, determined women and some sexiness. Please note…they have been previously published, but we did add some new material.
Soooo… the original plan was that we would get it up for pre-order and all that jazz, and then I thought maybe I'd try to get it up for RT…and then…um.  Well.  Best laid plans never work well for us, it seems.
Instead, hey!  We haz book.
Please note, these two stories are not new.  They have been previously released but we did expand them a little.
DUE TO CONFUSION, THIS IS NO LONGER TAKING PLACE. THERE WILL BE A CONTEST TOMORROW, HOWEVER.
Since we didn't do the whole promo shebang, I'm asking you all for some help.
The first fifteen bloggers who post about the book will receive a free download of the book.
How?  Just blog about it.  Come back here.  Post the link.
If you're one of the first fifteen, you get the book. Easy, yeah?
Kobo, Sony, iBookstore, etc are coming.  Can't give dates as that depends on when they get the titles uploaded.  Thanks!