Anybody who knows anything about me knows I'm a Lynn Viehl fiend.  She has a new book out today. I'm buying two copies. One for me, and one for…one of you.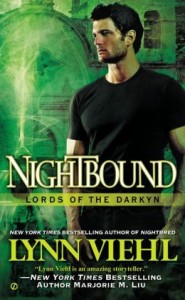 Beaumaris of York has many secrets. No human can know that he's an immortal Darkyn assigned to Knight's Realm, the Kyn stronghold disguised as a medieval theme park. And none of his brethren can discover that he's a half-breed, rescued from slavery as a child. Lately Beau has been yearning for action—and he's about to find it with his new mission.

Brilliant archaeologist Dr. Alys Stuart is infamous for her extraordinary theories—especially those concerning the mysterious Knights Templar—and she is unaware that her research is funded by the Kyn coffers. When the Kyn sends a vexingly good-looking man to assist—and protect—her, she doesn't expect the surge of attraction she feels for him.

When a powerful Templar artifact surfaces, Alys and Beau must trust each other enough to stop mankind's greed for immortality from sparking a war between mortals and Kyn that will destroy the world.
Want it?  Just leave a comment below…tell me whether you've read Lynn Viehl or not, because if you haven't, I'll have to keep twisting arms. Just kidding.   Maybe.  I dunno.
Open internationally.  If you're in the US or Canada, you can choose ebook or print, if you're outside the US or Canada, you'll have to take a print copy… sorry, I have no control over territory restrictions.
Contest open until Friday and please make sure you read my disclaimer.  You have to check back to see if you win~I'll probably post the winner early next week.