Now available…hopefully…
I'm expecting it should be at least.  It's up at Smashwords, ARe and Amazon, it's just a matter of it clearing through at BN.  It's now up at Nook, too. ARe and Smashwords, as always, are international.  The title will go out to sites like Sony and Kobo via Smashwords…not sure how long it takes, though.  That's out of my control.
And no, I'm not going with the silly cover I did.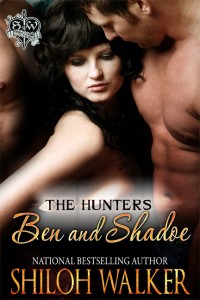 A skilled warrior and a Hunter with unique abilities, Benjamin Cross has spent years on a personal quest. Decades after a betrayal tore his pack apart, he has finally found the missing child who disappeared all those years ago. But now that he has found her, she's not exactly what he'd expected.
Unaware of her heritage, hiding from her own painful past, Shadoe doesn't know what to make of the man who calls himself Benjamin. She doesn't know what to make of the voices in her head, the images in her mind…the one thing she is sure of…she thinks she's going crazy.
When danger arrives at her doorstep, she'll have to turn to him to keep her safe, to teach her how to use the wild power breaking free inside her. And to love her…
Warning: This book contains a wicked couple of shapeshifters, some hot sex, a Master vampire, some naughty ménage action, some bad guys, some fighting, some hot sex, some heartbreak, some fun, some hot sex, and a couple of people who fall in love. Did I mention the sex? Don't say you weren't warned…
FYI…if you haven't read my earlier Hunter books…please note the warning. Please. You can't say you weren't told there was some sexin' going on.  There is sexin' going on. These are erotic romance and there is some menage action and dirty talk, etc, etc…if that's not your thing, please don't read it.
Also, these are some of my earlier books.  The writing is…well…rougher and the stories aren't as tight as later books.  I smoothed things out as far as technical things (dialog tags, etc), but unless I want to completely rewrite the books, I can't fix the fact that the books aren't as well written as they would be if I'd written them last year instead of 8-9 years ago.
The books are what they are and I can't endlessly go back and improve upon things, because if I'm doing that, then I'm not writing new books.
Okay…excerpt!
Shadoe's heart skipped as he lowered his head. She saw it coming. She could have moved. Should have moved. Even as fear slammed into her throat, though, and even as it sent her heart to racing, she stood there, unable to move, unable to breathe.
It wasn't terror that held her still though, as he cupped her face his hands. It wasn't terror that kept her from turning away as he dipped his head and pressed his lips to hers. Lightly at first. So very lightly, his tongue tracing the line of her mouth, teasing the entrance before retreating. A slow, easy kiss…a seduction.
And when he lifted his head, she whimpered.
He looked down at her, hunger glittering in his eyes. Nervous, she watched him, but as he reached up to trace her mouth with his fingertip, she didn't turn away.
"I think I'd like to do that again," he murmured.
And she shocked the hell out of herself when she responded with, "I think I'd like to let you."
The next kiss wasn't so light. Wasn't so easy and gently. This time, he pulled her closer and hunger ripped through her as he took her mouth, greedy and demanding.
She groaned as he pushed his tongue—hot, rough and seductive—into her mouth. One hand threaded through her hair. She trembled as he moved his body against her, bringing his heat, so seductively necessary that Shadoe wondered how she had ever lived without it.
He held himself back, touching her with just one hand in her hair, his mouth on hers, his other hand gripping her hip, strong and firm. Shadoe gasped as a shudder racked that big body and she was pulled completely against him, his chest crushing her breasts, a flat, hard belly coming to rest against the softness of hers.
He seemed to fill her, some intangible energy from him sliding inside her and filling all the dark, empty places she had lived with for so long.
Ben's mouth ate at hers, his tongue rubbing seductively against hers, before he pulled back. Nipping her lower lip, he let his lips cruise down the line of her neck. A big hand, firm and hard, came up to her breast and Shadoe whimpered when he pinched the nipple lightly, teasingly as he lowered his mouth to feast on the other.
Cool air kissed her flesh and she cried out as she felt him tear the shirt away only seconds before the hot, wet silk of his mouth closed over her nipple. Drawing it deep, laving it roughly, he nipped at her again, rolling his eyes upward to stare at her face.
His eyes—so intent, so rapt on her face. Shadoe felt her knees buckle and his big hands caught her, bringing her into the air as he licked and bit and sucked on her. Her head fell back and she arched against the hot length between her thighs, instinctively wrapping her legs around Ben's waist and arching, rubbing against him.
"Well, now… Not exactly what I was expecting to see when I showed up."
ARe | Smashwords | Amazon | Nook
No date yet on the final Hunter title, Rafe and Sheila.  I'll post it when I get it.