Getting closer…just a little over a week…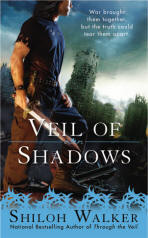 And what do you intend to do when you find him? she asked herself silently.
Her belly clenched. "Is jumping him an option?" she mumbled.
"Jump who?"
Even the sound of his voice, low and smooth and deep, made her shiver. The icy knot inside dissolved, just like that. Just that easy.
Just that simple. He hadn't even touched her.
Just the sound of his voice thawed the ice.
But the aching loneliness lingered.
Stopping in her tracks, she turned her head, following the sound of that voice. He was in the very outer edges of the camp, sitting with his back to the camp's inner wall, with a knife in his hand. He stared at her and the heat in that one dark, dark eye was unmistakable.
Her knees threatened to give out.
Swallowing, she started towards him, placing one foot in front of the other and trying to decide if she should really do this.
Then he leaned his head back at the camp's inner wall and a faint smile curled his lips as he stared at her. "You are utterly beautiful," he murmured.
Oh, hell yes she wanted to do this. And not because of the compliment, although it did further serve to weaken her knees. But because when he looked at her, with that intent, probing stare, it made her feel as though all he saw was her. It made her see nothing but him.
It made her forget she was anything, anybody other than just herself. She was simply Syn…and it made her want him that much more.
Sinking to her knees beside him, she eyed the knife in his hand. He was carving something. She eyed it curiously and glanced up at him. "What are you doing?"
He brandished the bit of wood in his hand. "Trying to occupy my mind so I do not come looking for you. And you…I do not need to ask what you are doing. You are avoiding giving me an answer." A grin curled his lips and he added, "Again."
"Avoiding giving you what answers?"
He lowered his lashes, staring at her from under them and murmured, "You said something about jumping someone. I asked who. You haven't answered."
"You already know the answer," she said slowly. She flexed her hands and then rested them on her thighs. Hopefully, it would keep her from reaching for him. Hopefully.
"So you want to jump me…what exactly does that mean? Have I not been the good little soldier boy for you, Captain?" As he asked, something glittered in his eyes.
Something wicked. Something hot.
Her heart started to race. "You know, I've never once felt the need to strip naked when somebody calls me Captain. Until now."
"Are you feeling the need to strip naked?"
She bit her lip. Curled her fingers into the thick, durable fabric of her pants, gripping it desperately. "Yes."
Borders |BAMM | B & N | Book Depository | IndieBound | Amazon | Powell's