contest is closed.  winners to be posted next week.
So it's no secret that I have become a complete and total sucker for the Kate Daniels books by Ilona Andrews.  Complete. Total. Sucker.  These books are just so awesome, though.
And the new one is due out today.
Atlanta would be a nice place to live, if it weren't for the magic. When the magic is up, rogue mages cast their spells and monsters appear, while guns refuse to fire and cars fail to start. But then technology returns, and the magic recedes as unpredictably as it rose.
Kate Daniels works for the Order of the Knights of Merciful Aid, officially as a liaison with the mercenary guild. Unofficially, she cleans up the paranormal problems no one else wants to handle—especially if they involve Atlanta's shapeshifting community.
When she's called in to investigate a fight at the Steel Horse, a bar midway between the territories of the shapeshifters and the necromancers, Kate quickly discovers there's a new player in town. One who's been around for thousands of years—and rode to war at the side of Kate's father.
This foe may be too much even for Kate and Curran, the Lord of the Beasts, to handle. Because this time, Kate will be taking on family…
~*~
There are parts of this book that damn near had me banging my head against the wall in frustration…and other parts that had me all but groaning when they ended.  Because they ended.  Yes, I've read it.  About five times now.  At least.  You think I'd be going on about a book I hadn't read… o_O   It's sooooo good.  So awesome.   So worth the wait, although man, how am I going to wait for the next one?  Eek.  Anyway.  It's out now.  Are you reading these books?  Why not??? They are so goooood….
And man, oh man, today is just a day for awesome books, because it's also the release date for Web of Lies by Jennifer Estep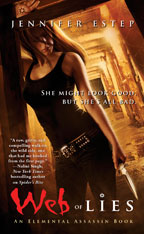 You might know me as the Spider, the most feared assassin in the South. I'm retired now, but trouble still has a way of finding me. Like the other day when two punks tried to rob my popular barbecue joint, the Pork Pit. Then there was the barrage of gunfire on the restaurant. Only, for once, those kill shots weren't aimed at me. They were meant for Violet Fox. Ever since I agreed to help Violet and her grandfather protect their property from an evil coalmining tycoon, I'm beginning to wonder if I'm really retired. So is Detective Donovan Caine. The only honest cop in Ashland is having a real hard time reconciling his attraction to me with his Boy Scout mentality. And I can barely keep my hands off his sexy body. What can I say? I'm a Stone elemental with a little Ice magic thrown in, but my heart isn't made of solid rock. Luckily, Gin Blanco always gets her man . . . dead or alive.
So, so good….the first one blew me away.  I'm reading the second one now and man, Gin is amazing. But you don't have to take my word for it.
No, I'm not going to give away these books.  I'm giving away the first in the series.
You see, I'm trying seduce everybody into getting hooked, and the best way to do that is to get you reading the first in each series.
Sooo…..but if you haven't read them and you're curious… here's your chance.  Leave your name in comments and I'll draw one name to win an unsigned copy of Magic Bites, the first Kate Daniels book and an unsigned Spider's Bite by Jennifer Estep, the first Elemental Assassin book .  Because once you read them if you're anything like me?  You'll want the rest of the series.
(Please note, the contest is for both, I'm lazy, have another out of town thing coming up and don't want to do another contest, so you get both-if you have one of the books, then you are more than welcome to give the double to a friend, use it for a contest, etc).
FYI, if you aren't familiar with my rules… read the disclaimer.  It's your responsibility to check back in a few days and see if you've won, as well as the other rules…
winning name will be posted on the blog
it is the winner's responsibility to check back and see if s/he has won.
winner has about a week to claim the prize
the winner name will be posted within the next few days
one entry per household
open across the globe
comments must be left at my wordpress blog (shilohwalker.wordpress.com-not via amazon/facebook or any other feed sites, etc)
do not forward this contest to sweepstakes sites-if it ends up on one, I reserve the right (and likely will) to end it without drawing a winner.
by entering, you attest that you are 18 years of age or whatever the age of majority is in your country of residence.
I reserve the right to modify the contest rules as I see fit…
yadda yadda yadda…read the disclaimer.
Per whatever regs… I bought the books.  O.O
Comment to win….and come over to the dark side…  ;o)