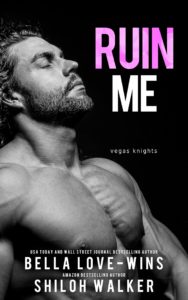 RUIN ME – A Vegas Knights Story
Angel
I should know to keep my guard up when this dark, damaged stranger saves me.
But I don't.
His tortured soul draws me in for one hot, sinful Vegas night.
Then I learn what he is.
An irresistible liar.
I should back off, but it's already too late.
I've fallen for the one man who'll ruin me.
Author's Note: Ruin Me is a full length (64,000 words) steamy standalone romance with dark story elements, no cheating, no cliffhanger, and a happy ever after ending.
Excerpt
His kiss was…indescribable.
I think maybe I experienced hunger something like this—just about a hundred shades paler. That was after giving up sweets, sugar, chocolate, all of it, for six months while trying to lose weight to fit into a dress for a friend's wedding.
It wasn't worth it.
Gorging on salted caramel ice cream every night for a week straight after the wedding?
That was worth it.
This kiss was like that, just more voracious.
He sank into me, tongue and teeth, and I whimpered as I gave into him, unable to do anything else.
One of his sure hands freed my hair from the loose ponytail I'd twisted it into. I moaned when he combed the thick, heavy mess down, massaging my scalp as if he knew how much the weight of it got to me. His tongue licked at the roof of my mouth while the fingers of his hand slowly combed, then tangled in my hair, wrapping the long strands of it around his fingers until he had total control of my head.
When he tilted his head to look down at me, my heart was already racing.
"You sure you want this, pretty angel?"
Something about the way he said it made me wonder if he was using my name or just an endearment. It didn't matter. I didn't want to be Angel Halliwell in that moment. I just wanted to be a woman in a dark, impersonal room in some Vegas hotel, alone with a man who was turning my blood to something hot, sweet and thick.
"Damn sure," I said, curling my arm around his neck and tugging his mouth back to mine. "Kiss me again, Mac. I really like it when you kiss me."
FREE PREQUEL