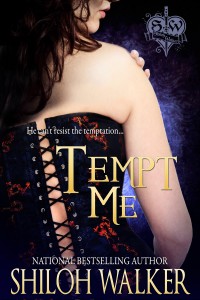 contemporary hot romance

Tempt me…

She's a temptation he can't resist…

Roxanne 'Rocki' Monroe's life is full of secrets and hidden heartaches. Cole Stanton would love to heal her pain and chase away the ghosts of her past, but she's just a complication he doesn't have room for in his life.

Or so he thinks.

It doesn't take Cole long to realize he's more than willing to let temptation get the best of him, more than happy to deal with complications if that's what it takes to get her.

What he has and what he needs are two different things…and what he needs is Rocki.
Staring at Rocki standing on the stage, Cole told himself he wasn't going to do it. He'd just broken up with his fiancée. Rocki was still grieving over her husband. It was a bad thing all around. Right?
But that didn't keep him from taking a few steps into the restaurant, getting just a little bit closer. His blood pumped hard and fast as he got closer.
The bids were at two thousand now, but fewer people were involved. As he reached the bottom of the stage, he said loudly, "Three thousand."
Rocki looked down, startled.
Her eyes met his, wide and dark…so dark, he felt lost in them.
Screw the bad things. He wanted this woman, damn it. Maybe just having a simple date would convince him that she wasn't everything he had convinced himself she was. Besides, this whole thing was for charity…a good cause.
"I've got three thousand here," Lacey called out, delight evident in her voice. "Do I have thirty-five hundred?"
Another voice said, "Thirty-five hundred."
Because he was standing so close, Cole saw the minute way Rocki's shoulder's tightened, the flash of something in her eyes. Was it fear? What was it…? It didn't matter.
"Five thousand," he said, still staring at her.
She lifted a brow. "Five thousand?" she mouthed.
Silence fell through the room, and this time, nobody offered another bid.
Lacey grinned down at him. "She's all yours, Mr. Stanton. For a night, at least."
and you can read another excerpt here, or the first 20% of the book on Smashwords at the link below.
*Please note, Smashwords distributes to the other ebook vendors, Nook, Kobo, etc.  Once I have the links for them, I'll post them here.  At this time, I'm not uploading things directly to sites other than Amazon & Smashwords-there are too many and as Smashwords will distribute the works for me, it's much easier for me to keep track of things this way.  I hope you understand.  ALSO, please bear in mind, you can buy the formats you need from Smashwords–they've got a very simple FAQ explaining everything here.
Smashwords also sells worldwide, so anybody can buy from there!
A couple of reviews…