Kindle
9.27.2010
Contest is now over.  Winner to be posted to the blog within the next week or so. Comments closed at this time to prevent confusion.
We have guests!  Well… one guest…Jennifer Estep, author of the awesome Elemental Assassin series… which I adore…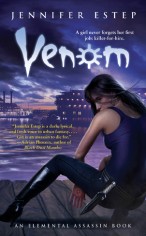 Greetings and salutations! First of all, I want to say thanks to Shiloh for having me on the blog today. Thanks, Shiloh!
Some of you might know me as the author of the Ele­men­tal Assas­sin urban fan­tasy series. The books focus on Gin Blanco, an assas­sin code­named the Spi­der who can con­trol the ele­ments of Ice and Stone. When she's not busy killing peo­ple and right­ing wrongs, Gin runs a bar­be­cue restau­rant called the Pork Pit in the fic­tional south­ern metrop­o­lis of Ash­land. The city is also home to giants, dwarves, vam­pires, and ele­men­tals – Air, Fire, Ice, and Stone.
The first two books in the series are Spider's Bite and Web of Lies. Venom, the third book, will come out on Sept. 28. Tan­gled Threads, the fourth book, will be pub­lished in May 2011, while the fifth book (unti­tled) will be released in Octo­ber 2011.
I've also sold a young adult urban fantasy series called Mythos Academy. The first book is called Touch of Frost and will be out in August 2011. The books focus on Gwen Frost, a Gypsy girl who has the gift of psychometry, or the ability to know an object's history just by touching it. After a serious freak-out with her magic, Gwen finds herself shipped off to Mythos Academy, a school for the descendents of ancient warriors like Spartans, Valkyries, and more.
So I thought I would talk a little today about balancing romance while still writing an action-packed urban fantasy book. It's a tough thing to do. There's so much crossover these days, with romance readers branching out and trying urban fantasy books, and fantasy readers trying romance titles. Urban fantasy really straddles the line between fantasy and romance, and urban fantasy books seem to have a little bit of everything in them.
It can be hard to write a book that has enough magic, world building, and action to satisfy fantasy fans, but still has enough sexual tension and romance to please romance fans. But it's something that you have to think about as an author, because both types of readers will hopefully be checking out your books.
I don't have a set number of fight scenes versus romance scenes in my books, but usually, I'll have about three fight scenes and two romance scenes. That's just how it generally works out. My heroine Gin usually has a couple of minor skirmishes with the bad guy or his minions before the big finale fight scene at the end of the book. Along the way, she'll have a quiet moment or two, and that's when I try to bring in the sexual tension and romance. So the book formula would look something like this: fight, romance, fight, romance, fight, happily ever after (for now).
To me, the fight scenes and their consequences are what really drive the plot of the book. The romance scenes are a chance for Gin to let her guard down and maybe have a little bit of fun before she faces down the big bad. I think it's a pretty good balance. The books are certainly a lot of fun for me to write, and I hope readers have just as good a time reading them.
What about you guys? How much romance do you like in urban fantasy or other genres? What are some of your favorite urban fantasy or paranormal romance books or series?
FYI…Jennifer has kindly offered up a copy of VENOM for one lucky commenter… just comment to win…naturally, make sure you stick to my rules… *G*  Winner will be posted here at my blog.  Remember to read my disclaimer, guys….open to the US & Canada only…