Original covers...click on thumbnail to see full cover.
Please note books 1 & 2 were combined together in the print release, as were books 3 & 4.
Books 1 & 2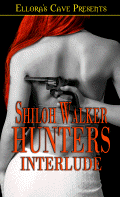 Book 5
Book 6
Please note that while this will all be re-issued digitally, there is no guarantee I'll make them available in print. If you find them in print…have at it.

Reading Order
Hunters Declan and Tori
Hunters Hunters Eli and Sarel
Hunters Byron and Kit
Hunters Jonathan and Lori
Hunters Ben & Shadoe
Hunters Rafe & Sheila
Hunting The Hunter
Hunter's Salvation
Hunters: Heart & Soul
I'll Be Hunting You
Hunter's Need
Hunter's Fall
Prequels
Standalones
Hunter's Pride
Hunter's Mercy
Hunter's Edge
Belonging
Hunt Me
To read more about the other books, visit the series page