Candy Houses & No Prince Charming
So you think you know fairy tales? Guess again.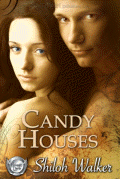 Candy Houses 
Grimm's Circle, Book 1
Greta didn't get her happy ending her first time around. And now that she's a Grimm—special kind of guardian angel and official ass-kicker in the paranormal world—romance is hard to find. Besides, there's only ever been one man who made her heart race, and the fact that he did scared her right out of his arms. Now Rip is back. And just in time too, because Greta needs his help.
On a mission he knows is going to test all of his strengths and skills, the last person Rip expected to see is the one woman who broke his heart. Working together seems to be their only hope. But, when faced with a danger neither of them anticipated, the question is, how will they face the danger to their hearts—assuming they survive, of course.
Warning: Dark, sexy, a little bit scary—this fairy tale is only for grownups and is best saved for bedtime.
Excerpt
Rip was standing in the doorway with one shoulder propped against the door jam. He had a look in his eyes that sent my skin to tingling all over. I mean all over—I felt it in my lips, my toes and every square inch in between.
"Hey," I said. My voice cracked.
He continued to stare at me.
It was very, very unnerving the way he watched me.
"Ahh…is everything okay?"
He didn't answer. Nope, what he did was push off the door jam and come over to the bed. He knelt down by the bed, resting one hand on top of the blankets. He had such damn nice hands…the hands of a poet, a warrior…a lover. One of those lovely hands was only an inch away from my thigh too. I thought I could even feel the heat of it, through the blankets.
"You were dreaming," Rip said, his voice low and rough.
Oh, shit. Swallowing, I dredged up an innocent smile. "Was I?"
"Yes." His eyes, that dark, melted-chocolate gaze, locked on mine and I felt frozen in place. Unable to move as he laid a hand on my cheek and stroked my lower lip with his thumb. "Do you remember it?"
Oh, man, did I remember. But I couldn't really tell him that, now could I? Self-preservation is a lovely thing, and I looked him dead in the eye and lied. "Nope."
Self-preservation is a lovely thing, yeah, but it doesn't make me a better liar.
"You don't remember?" He leaned in and nuzzled my neck, his breath teasing across my flesh like a caress. "Maybe I could jog your memory."
The hand on my cheek stroked down, over my neck, across my collarbone, down, down. The tips of his fingers brushed against the curve of my breast and I realized I'd dropped the blankets and was sitting there as naked as the day I was born.
"I'm good. No need to jog the memory."
"You whispered my name," he murmured, nipping my earlobe. "Then you moaned. You sounded exactly like you did the first time I made you come."
BAMM | B & N | Book Depository | IndieBound | Amazon | iBooks
~*~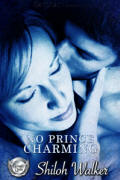 Elle spent years trying to get over her so-called Prince Charming, and she's finally getting the hang of it. A Grimm—a guardian angel with unique gifts—she spends her nights trolling for demons and kicking ass, and lately, her days have been spent with her on-and-off-again lover, Ren, a fellow Grimm. But fate has other plans in store for Elle, plans that include Michael, the prince from her youth who broke her heart.
"What do you choose…live for her? Or would you rather die?" That was the choice Michael was given all those years ago. Although he knew she'd never forgive him, when Michael was given the chance to become a Grimm, he took it. Still, he isn't so sure Elle needs him in her life. With a lover at her side and a mission before her, Elle looks like she's doing just fine without him.
But the not-so-charming prince isn't going to back off that easily…not if there's a chance she might need him again. He'd do anything to save her. Kill for her, live for her, die for her…
Excerpt
All these years, he had been waiting for a second chance. All these years, he had waited for her.
Waited—because he'd been told that she would need him. He'd held onto that, because he loved her, because he wanted to believe she would one day forgive him, one day love him again, one day need him.
And now, here she was…so lovely, so beautiful and strong. So out of reach.
He'd been a delusional fool.
She leaned against her lover and smiled at him. A golden brow arched and she said, "What's the matter, prince? Cat got your tongue?"
He skimmed his gaze over her once more, wishing he could move in and touch. Wishing he could take and taste. Instead, he tucked his hands into his pockets and inclined his head. "Just trying to understand your choice of clothing."
"Oh, well, now. I can help there." Elle gave him a devilish smile and leaned in, her voice a low, silken purr. "It's a sex club. I'm trying to blend."
Michael didn't think Elle could ever blend. No matter what she did.
She was close…so close. Closing his eyes, he took a slow, careful breath, flooding his senses with her scent, reveling in the warmth he felt radiating from her.
But then she pulled back. Gone. Her eyes stared at his and she had a blank, bored expression on her face. "So now that you know why I'm pretending to be S&M Barbie, why don't you get out of here?"
"I can't." Inclining his head, he said, "I was sent here. Told to find you, help you."
"Help me?" She shrugged. "Sorry, Michael, I've already got help." She inclined her head towards her companion and asked, "Ren, have you met Michael?"
"No." A cold smile curled Ren's lips and he stroked his jaw. "I don't believe I've had the pleasure. Although I've heard of you. Quite a bit, actually. But, as you can see, help is already taken care of. Run along now…go crawl back under a rock or something."
Michael bared his teeth in a grim smile. "I'll go on along when I'm damn good and ready…what was the name again…Ren?"
The other man opened his mouth to respond and Michael looked away, dismissing him. "He sent me, Elle. You're stuck with me."
Elle's lashes lowered, shielding her blue eyes from him.
But he didn't need to see her eyes to feel her anger, feel her confusion.
She hid it behind a cool smile just a few seconds later. "I suspected as much. Damn, apparently I went and pissed somebody off but bad, if I got stuck with you."
Michael managed to hide his wince, but just barely. "I'll be sure to let him know you didn't appreciate my presence."
She didn't need to ask which him he was talking about—it could only be Will. He was the only one who ever sent them anyway. All orders came through him. For the most part, those who served under Will's lead didn't have to follow orders—they knew their responsibilities and they did their jobs.
But every once in a while there came a special case.
Michael didn't know what was special about this particular job, but if there was a chance in hell that Elle might actually need him, then he'd walk through fire to help her.
And if that meant he'd have to stand by at the side while another man pawed her, so fucking be it. He'd be insane when the job was done, but if she might need him, he didn't give a damn.
If he was honest, he'd have to admit he'd walk through fire just to see her smile. Burns healed. Doing something that would actually put a real smile on her face? It would be worth a little pain.
BAMM | B & N | Book Depository | IndieBound | Amazon | ARe | iBooks
In print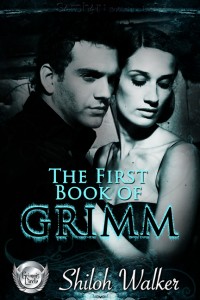 Please note-The First Book of Grimm contains the first two books, Candy Houses & No Prince Charming.  You can buy the ebooks separately or purchase them together in print.